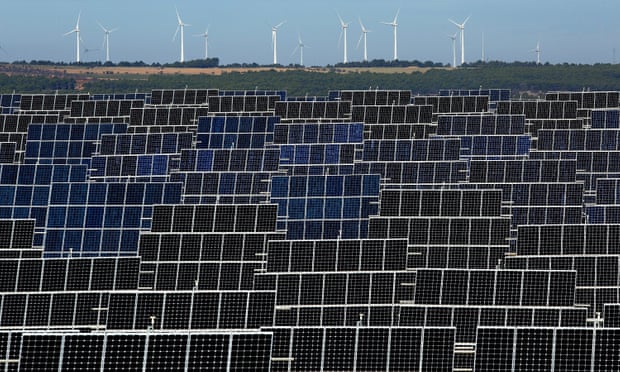 Spain has launched an ambitious plan to switch its electricity system entirely to renewable sources by 2050 and completely decarbonise its economy soon after.
By mid-century greenhouse gas emissions would be slashed by 90% from 1990 levels under Spain's draft climate change and energy transition law.
To do this, the country's social democratic government is committing to installing at least 3,000MW of wind and solar power capacity every year in the next 10 years ahead.
New licences for fossil fuel drills, hydrocarbon exploitation and fracking wells, will be banned, and a fifth of the state budget will be reserved for measures that can mitigate climate change. This money will ratchet upwards from 2025.
Christiana Figueres, a former executive secretary of the UN's framework convention on climate change (UNFCCC), hailed the draft Spanish law as "an excellent example of the Paris agreement". She added: "It sets a long-term goal, provides incentives on scaling up emissions technologies and cares about a good transition for the workforce."
Under the plan, "just transition" contracts will be drawn up, similar to the £220m package announced in October, that will shut most Spanish coalmines in return for a suite of early retirement schemes, re-skilling in clean energy jobs, and environmental restoration. These deals will be partly financed by auction returns from the sale of emissions rights.
The government has already scrapped a controversial "sun tax" that halted Spain's booming renewables sector earlier this decade, and the new law will also mandate a 35% electricity share for green energy by 2030.
James Watson, chief executive of the SolarPower Europe trade association, said the law was "a wake-up call to the rest of the world".
Energy efficiency will also be improved by 35% within 11 years, and government and public sector authorities will be able to lease only buildings that have almost zero energy consumption.
Laurence Tubiana, chief executive of the European Climate Foundation, and former French climate envoy who helped draft the Paris accord, described the agreement as groundbreaking and inspirational. "By planning on going carbon neutral, Spain shows that the battle against climate change is deadly serious, that they are ready to step up and plan to reap the rewards of decarbonisation," she said.
However, the government's hold on power is fragile. With just a quarter of parliamentary seats it will depend on the more leftwing Podemos and liberal Ciudadanos parties to pass the climate plan.
No dates were included in the legislation for phaseouts of coal or nuclear energy, and a ban on new cars with petrol or diesel engines was delayed until 2040.