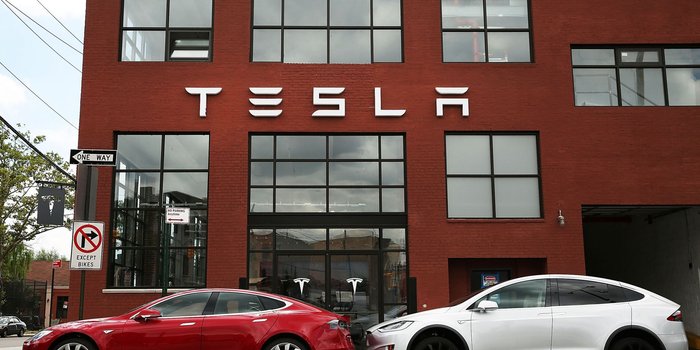 The stock market has been strong all year, but many experts fear a downturn is coming. That's why FANG stocks (Facebook, Amazon, Netflix and Google) are listed as either stocks you should 'sell' or 'strong sell' by the experts at TradingView.
Tesla, by contrast, has mostly had just an odd year. CEO Elon Musk was forced to step down as chairman due to an SEC lawsuit and the stock has seesawed all year. However, despite the electric car company's uneven performance, many experts recommend buying Tesla stock right now. Of the 26 TradingView experts who weighed in, 14 recommended buying, nine were neutral, and just three recommended selling the stock.
Who knows? If the company can withstand Musk's terrible tweets, maybe it can survive a downturn, too.
The Entrepreneur Index was up today, despite other popular indexes like the S&P 500, the Nasdaq 100 and the Dow 30 seeing declines. 36 of the 60 stocks were up, with NVIDIA Corp. leading the way with a 5.15 percent jump.
By contrast, Tyson Foods was down 5.58 percent, the most of any business on the Index, after reporting fiscal fourth-quarter earnings that fell short of expectations.
The Entrepreneur Index™ collects the top 60 publicly traded companies founded and run by entrepreneurs. The entrepreneurial spirit is a valuable asset for any business, and this index recognizes its importance, no matter how much a company has grown. These inspirational businesses can be tracked in real time on Entrepreneur.com.