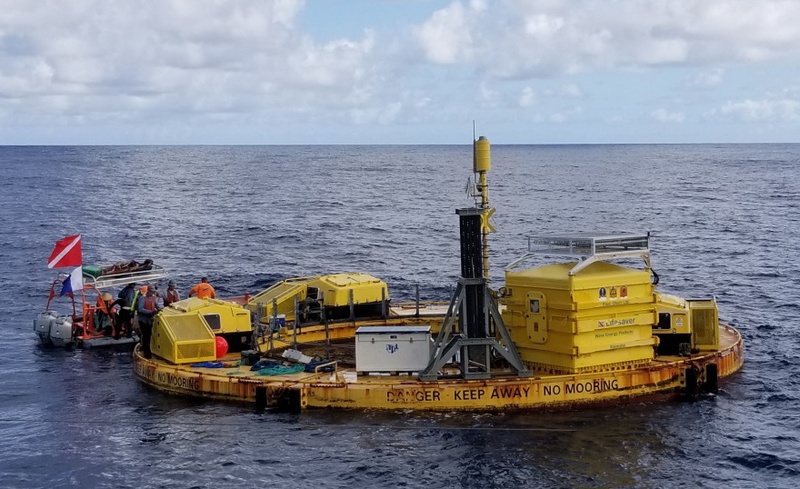 The US Navy has successfully carried out the second testing round of the wave energy converter (WEC) device at the Wave Energy Test Site (WETS) off Marine Corps Base Hawaii (MCBH).
The Fred Olsen (of Norway) 'BOLT Lifesaver' WEC device testing was supported by the US Naval Facilities Engineering and Expeditionary Warfare Center (NAVFAC EXWC).
In October, the second phase of testing started by the Applied Research Laboratory (ARL) at the University of Hawaii.
With funding from NAVFAC, the device testing was carried out in collaboration with the University of Washington, Fred Olsen, and Sea Engineering.
The WEC uses three power take-off (PTO) units that can convert the motion of the passing waves to electricity through rotary electrical generators.
The device is not connected to shore and the power generated is stored in a battery bank.
This recent phase of the Lifesaver testing has been designed to enhance device reliability and power performance, through alterations to the device mooring strategy.
In addition, the test helps demonstrate an alternative means of powering oceanographic instrumentation without using utility-supplied electrical grid power or single-use batteries.
Known as the 'Wave-powered Adaptable Monitoring Package' (WAMP), the oceanographic instrumentation is currently being evaluated on the BOLT Lifesaver WEC.
It was designed, assembled, and integrated with the device by the Pacific Marine Energy Center (PMEC), University of Washington, leveraging the capabilities of the Applied Physics Laboratory (US Navy University Affiliated Research Center), and the Department of Mechanical Engineering.
WAMP is used by the navy to provide persistent underwater sensing, in addition to supporting unmanned, undersea vehicle (UUV) recharge using a wireless power transfer system developed by US-based start-up company Wibotic.