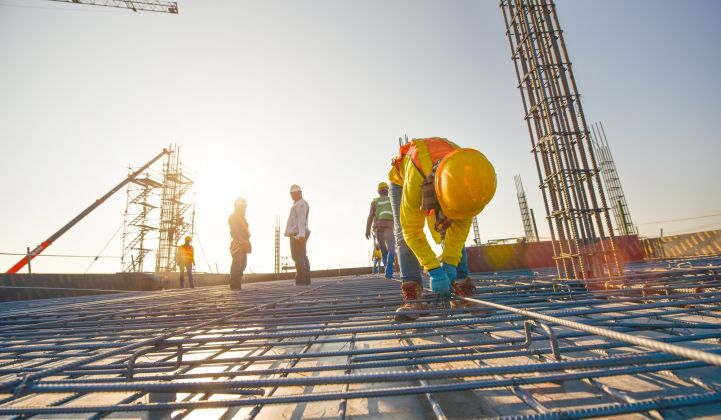 Europe is on track increase its battery-making capacity by 20 times in the next seven years, hitting 90 gigawatt-hours of manufacturing output a year by 2025.
The figures, from Wood Mackenzie Power & Renewables, show Europe gaining ground on Asia, which today accounts for 65 percent of global battery cell manufacturing.
"Several European and Asian battery vendors are now expanding in Europe by building manufacturing bases in the region," said Wood Mackenzie energy storage analyst Mitalee Gupta.
Leading the charge is Northvolt, the Swedish startup founded by former Tesla execs.
Last month the company announced it would be building a new manufacturing center in Gdansk, Poland, to assemble modules based on cells from an already-announced facility in Skellefteå, Sweden.
The module-making factory in Poland will employ 100 people and will have an initial capacity of 10,000 modules a year. It is due to come online in 2019, a year ahead of production at Northvolt's Swedish cell-making facility.
"Their Swedish plant, currently under development, is expected to reach 32 gigawatt-hours of manufacturing capacity by 2023," Gupta noted.
The Polish facility, meanwhile, will help "meet the increased demand for complete battery solutions on the European market," said Northvolt in a press release.
It will be operated as a partnership between Northvolt and South Bay Solutions, a company specialized in manufacturing battery modules.
Earlier last month, Northvolt said it would be joining forces with auto giant BMW Group and recycling technology specialist Umicore to establish a closed life cycle loop for batteries, feeding materials from end-of-life products back into the manufacturing process.
The consortium would also look to use renewable energy to power manufacturing, Northvolt said.
Also last month, the chemicals behemoth BASF unveiled plans for an automotive battery manufacturing plant in Harjavalta, western Finland, where the company is already producing materials for the energy storage supply chain.
The plant will be built next to a nickel and cobalt refinery owned by Norilsk Nickel, BASF said, and is part of a €400 million ($456 million) investment plan.
Production from the battery plant is planned to start in late 2020, with capacity to supply batteries for approximately 300,000 full electric vehicles per year, BASF said.
Like Northvolt, BASF is planning to power the Harjavalta plant with locally generated renewable energy sources, including hydro, wind and biomass.
Other recent battery manufacturing announcements in Europe include BMZ Group's €120 million (USD $141 million) investment in an expansion of production facilities at its headquarters in Karlstein am Main, Germany, which should lead to the creation of 300 new jobs next year.
And the Chinese lithium-ion battery maker Farasis Energy is also eyeing Europe after raising more than $1 billion in finance in September. The company, which already has two factories in China, could be looking to set up in Germany by around 2021, according to press reports.
Another major Chinese manufacturer, BYD, is also planning cell production in Europe, Reuters reported in June.
This would be on top of European manufacturing beachheads being established by Contemporary Amperex Technology, LG Chem, Samsung SDI, SK Innovation, GSR Capital, GS Yuasa and Lishen. The scale of many of these companies' plans is significant.
South Korea's LG Chem plans to produce 100,000 EV batteries per year at a Polish factory due to be completed this year, Reuters said. Samsung SDI, meanwhile, aims to open a factory near Budapest this year which will produce batteries for 50,000 electric vehicles a year.
A third South Korean company, SK Innovation, was reported to have broken ground in March on a battery plant in Hungary that will be able to produce 7.5 gigawatt-hours of batteries a year from 2020.
In a setback for European battery manufacturing, however, last month it emerged that a major consortium called TerraE, involving around 20 companies and research institutions, had failed to get off the ground.
The group had been planning to invest €4 billion in ($4.6 billion) in a plant with a production capacity of 34 gigawatt-hours a year, due to open in 2028.
In the end, though, none of the consortium members was willing to come up with the money, the German paper Der Tagesspiegel reported last month.