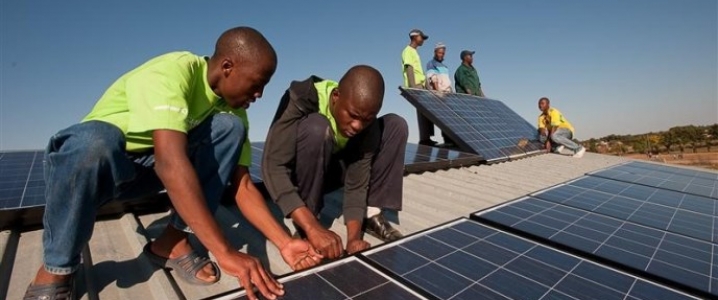 Côte d'Ivoire is moving forward with plans to build its first biomass power stations, part of wider efforts to respond to rising domestic energy demand and increase the role of renewables in the energy mix.
In July Ivorian energy company Société des Energies Nouvelles signed a memorandum of understanding with the U.S. Trade and Development Agency (USTDA) to develop a CFA154bn (€234.8m) power plant fuelled by cocoa waste. As part of the agreement, USTDA will provide a $996,000 grant for feasibility studies, which are expected to be completed by 2019.
Located near the southern city of Divo, the facility is expected to have an installed capacity of between 60 MW and 70 MW and become operational in 2023. In addition to saving an estimated 250,000 tonnes of CO2 per year, the project will also help the country reduce the amount of cocoa waste it produces – currently estimated to be around 26m tonnes annually – and provide a new source of revenue for cocoa farmers.
In tandem with the Divo project, Biokala, a subsidiary of local agro-business group SIFCA, and the France-based energy firm EDF are moving forward with a project to build a CFA105bn (€160.1m) palm oil biomass plant in Aboisso in the county's south-east.
Once it becomes fully operational in 2020, the plant is projected to convert around 400,000 tonnes of palm oil into an estimated 288 GWh of electricity per year.
Biomass and hydropower key to meeting climate change commitments
The development of the biomass projects comes amid governmental efforts to diversify the country's energy mix and increase the role of renewables.
As a signatory of the COP21 UN Conference on Climate Change, Côte d'Ivoire has committed to reducing greenhouse gas emissions by 28 percent by 2030, as well as increasing the share of electricity generated by renewables from current levels of 20 percent to 42 percent.
As of 2017 some 80 percent of total electricity generation was generated by natural gas, 19 percent by hydropower and around 1 percent by renewables, according to the Ministry of Petroleum, Energy and Renewable Energy Development.
In terms of hydropower, a series of investments are supporting government aims to lift its contribution to the energy mix to 26 percent by the end of the decade.
To that end, in November last year the country's largest hydroelectric power plant opened at Naoua Falls, near the city of Soubré. The development of the 275-MW project was undertaken by the China-based Power Construction Corporation, with financing coming from the Export-Import Bank of China and the Ivorian state. The operation of the plant has since been transferred to the state-owned utilities body operator CI-Energies.
In addition, four other large-scale hydropower projects are slated for completion by 2030, adding an additional 595 MW of capacity, while the government has unveiled plans to construct a series of smaller hydropower facilities, which are expected to add 81 MW over the period.
Renewables expansion to open up private investment opportunities
The transition towards renewables and the subsequent increase in electricity generation is also expected to lead to $9bn worth of new investment opportunities for the private sector by 2030.
The government plans to increase overall domestic generation capacity to 4000 MW by 2020 and 6000 MW by 2030, up from current levels of around 2200 MW. Of this, the World Bank-backed International Finance Corporation (IFC) estimates biomass capacity alone to total 1200 MW, while CI-Energies puts the figure at 1650 MW.
Unlocking this potential presents opportunities for private-sector investment, given that the authorities have set a maximum selling price of CFA62 (€0.09) per KWh for biomass, considerably higher than the CFA24.78 (€0.04) per KWh that the government pays to purchase energy from the Azito thermal power plant in Abidjan.
However, according to the IFC's recent report on Côte d'Ivoire, the renewable energy sector presents several challenges for stakeholders: procedural regulations regarding the confirmation of the availability, security and calorific testing of biomass supply still need to be clarified.
Additionally, the IFC report states that biomass projects necessitate the involvement of the Ministry and Agriculture, and the procedures to do so are not streamlined, causing most projects, such as the Abiosso plant, to be implemented on a case-by-case basis.