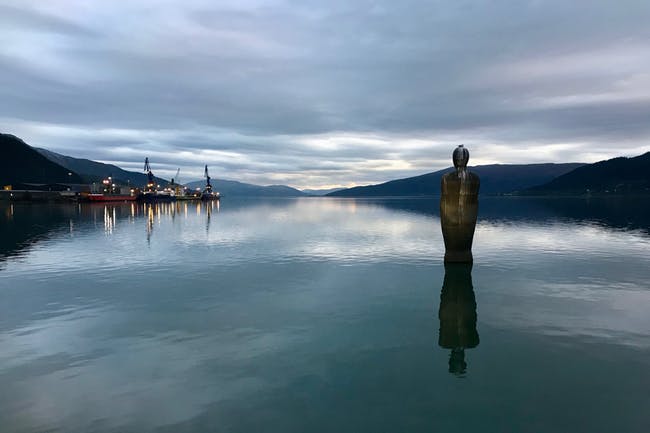 Thoralf Lian could have died last year. He was driving in Saltdal, just north of the Arctic Circle in Norway. Visibility was nearly zero: with temperatures down to minus two degrees Fahrenheit, the sand used to grit the roads kicked up steam. A truck appeared out of nowhere, and he drove straight into the back of it. The truck driver, feeling the shock, worried for Lian's safety. Luckily, he came away unscathed.
"That's when I realized that I bought maybe the safest car in the world," the 52-year-old laundry business owner tells Inverse. "In any other car I would probably be dead."
Lian's car, of course, is a Tesla Model X 90D. And while Tesla drivers are not exactly known for withholding praise, there is perhaps some truth to his assertion: the American National Highway Traffic Safety Administration has awarded five-star ratings to all three of the company's cars.
The Tesla's reputation for safety have helped make it a ubiquitous fixture in Norway, which is home to more than 140,000 electric vehicles. The vehicles are a common sight in Mo i Rana, Lian's hometown of around 20,000 people situated 75 miles from Saltdal, which Inverse visited this summer. The landscape doesn't exactly draw to mind the stereotypical California electric car driver, as buyers around here need to deftly navigate perilous Arctic winters.
CEO Elon Musk directly attributes its high safety to the fact that it's an electric car: Because the batteries are held under the car, the front has a larger crumple zone and the vehicle's mass is concentrated in the center to improve handling.
No one seems to have taken these advantages to heart as much as Norwegians, who remain the heart of the electric revolution. Government-owned broadcaster NRK revealed this month that over 30,000 people have placed deposits worth over 400 million krone ($49 million) to reserve their own electric car. The number of electric cars on Norway's roads has increased 42.5 percent over the past two years alone, enough so that they now constitute 5.1 percent of all passenger cars. Though it has a small population of just over five million, Norway was recognized in 2016 as having the highest percentage of of electric cars car ownership in the world: 24 percent, compared to second-placed Sweden with less than three percent.
Lian is lucky to be alive. That doesn't mean he loves everything about his Tesla, though. He struggles to open the swing-up falcon wing doors on the new Model X he got in January, especially when it's been raining and the water freezes. While Norway is leading the charge, this hasn't come without its growing pains.
"They are built in California!" he laughs. "It's not built to the Arctic environment."
Tesla has experienced a meteoric rise worldwide, but it's particularly noticeable in Norway. The company announced in 2013 that its first six European superchargers were live in the country, meaning that 90 percent of the population lived within 200 miles of the 120-kilowatt chargers capable of mostly replenishing a Model S battery in around half an hour. Its home turf, the United States, only had 16 stations at that time and only reached 80 percent population coverage in 2014. It sold over 8,000 cars in Norway in 2017, more than double that of second-placed Germany. In June 2018, it was revealed the company had delivered over 3,000 vehicles in the first six months of the year alone, double that of the same period last year. In fact, the sales were so high Musk intervened to slow down deliveries in March out of fears of overwhelming local logistics infrastructure. Norwegians, according to NRK's report, have placed over 100 million krone ($12.1 million) in deposits for the Model 3, second only to the Audi E-Tron Quattro.
How Norway Made an Electric Car Paradise Of the North
Norway has gone out of its way to accelerate electric car ownership through the use of generous government incentives. The car tax for a conventional vehicle, for example, is based on factors including weight, cylinder volume and carbon dioxide emissions, and can reach between 50 to 100 percent of the base price, meaning the price of a new car is nearly 50 percent more than what it would be in the United States. Electric vehicles are completely exempt from these taxes. They're also exempt from ferry and road tolls, a common sight in the mountainous and sparsely-populated country, which can cost riders up to 400 krone ($46) per day. Viktor Irle, a market analyst with EV-Volumes, says countries can learn something from the success of these policies.
"What other countries can learn from is to have high tax on vehicle purchase, and have electric vehicles exempt from it," Irle tells Inverse. "It is not the same to have a bonus. Because as we have seen in Europe, when Sweden introduces a bonus, they lower the base price. And cars become exported to for example Norway (with the Swedish tax payers money)."
The Downsides of Building Paradise
Not everyone is pleased with the current policy. Bjart Holtsmark, senior research fellow with the country's official statistics producer Statistics Norway, says it incentivizes people away from even more eco-friendly forms of transport. He pointed to a 2009 study, which found that more than half of non-electric vehicle owners used public transport, walked or cycled to work, a figure that dropped to 14 percent for electric car owners. Incentives that encourage families to buy a second car could mean that, rather than benefiting the environment, Norway's policy could actually cause some harm.
"Traditionally cars and car driving have been very expensive in Norway because of high taxes on both," Holtsmark tells Inverse. "With our EV-subsidies this tradition is broken and you could purchase EV without any taxes and use is extremely cheap. This will slowly change Norwegians' habits in the direction of more car driving and less use of bikes etc. With all the social costs related to car driving, especially congestions and accidents, I am not happy for this policy. Instead the subsidies and resources should have been given to electric bikes and infrastructure for bicycling."
Charging to the electric future seems logical, but it's not clear whether it's desirable for everyone. Public transport, for example, can save on space, a key benefit for high-population areas as one viral image shows. One Australian study in 2015 placed the cost of congestion at AU$16.5 billion ($11.6 billion), while an American study placed the cost of car crashes at $871 billion per year. A study published earlier this year showed electric vehicles do not reduce non-exhaust emissions like particles kicked up from the road.
An ever climbing number of drivers could discourage legislators from building more bike lanes and spending more on public transport, which would ultimately mean using city space less efficiently. Electric cars are also not the only solution to car exhaust, with bike-sharing schemes speeding up last-mile journeys, and transit systems like maglev and hyperloop making trains even faster. The cars are a welcome change for current consumer habits, but humans may use radically different means of transportation in the future.
There's a number of reasons why Tesla shouldn't be a success in Norway. Beyond the wing doors freezing, Lian notes that the semi-autonomous Enhanced Autopilot mode is basically useless in the snow (although he's still pre-ordered the full self-driving system), and the nearest service center is 300 miles away in Trondheim. After a series of complaints about mobile service centers, intended to plug the geographic gaps like these, Musk admitted in July that Norwegians were "right to be upset" with the state of service and aimed to quadruple the size of the mobile team.
Yet even in a smaller city like Mo i Rana, Musk's vehicles are everywhere you look. The technology excites people — the region's first Tesla taxi made local news in July 2015 — and Lian has managed to convince two of his friends to make the switch. With the national government's non-binding deadline that all cars should be zero emissions by 2025, the momentum seems to suggest that Norway will continue to lead the way in the electric vehicle movement.