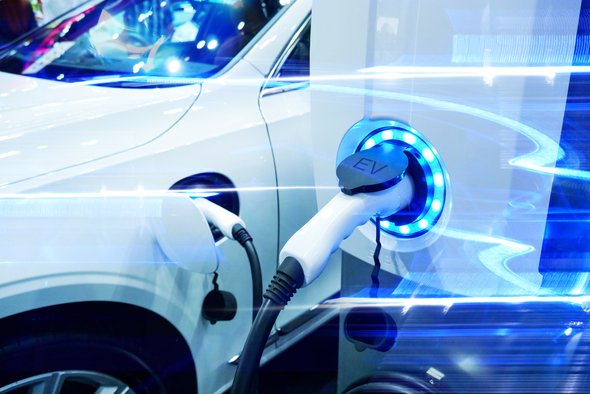 Electric vehicle advocates are celebrating a major milestone this month.
Sometime in October, a million electric vehicles will have been sold in the United States, according to the latest figures. It's a small but significant step toward decarbonizing the transportation sector, the country's largest and fastest-growing source of planet-warming emissions.
"It is a milestone for the U.S. EV market and for anybody who is interested in and cares deeply about reducing our nation's transportation oil use," said Paul Ruiz, senior policy analyst with Securing America's Future Energy, a group that advocates for curbing U.S. dependence on foreign oil.
"It's the culmination of what I would characterize as billions of dollars in automaker investment, years of expanding the nationwide charging infrastructure, and years of dedicated federal state and local policy," Ruiz added.
Here are five things to keep in mind:
THE CONTEXT
The United States started pursuing an EV market in earnest in 2011. Since then, sales have made a slow but steady climb. The third quarter of 2018 marked a record, with automakers selling more than 110,000 EVs—up 95 percent year over year.
In this case, though, context matters. EVs still only represent just over 1 percent of the country's vehicle fleet. Gas guzzlers continue to dominate the market.
"The 1 million mark is fantastic because it really shows that we're moving in the right direction," said Mary Lunetta, campaign representative with the Sierra Club's Electric Vehicles Initiative. "But while we're doing good things at the moment, we're not doing enough. EVs are 1 percent of the fleet, and it needs to rapidly increase."
THE INTERNATIONAL PICTURE
Other countries are racing ahead of the United States with their fleets. Although China entered the EV market after the United States, it now ranks first in deployment worldwide.
And although Europe currently ranks third, leaders there have rolled out ambitious policies aimed at boosting adoption. The European Parliament voted earlier this month to tighten limits for carbon dioxide emissions from cars and to impose a quota for clean vehicles of 35 percent in 2030.
"The U.S. and China are leading EV sales so far, and then Europe is holding the third place," said Ben Prochazka, vice president of the Electrification Coalition, a group working to accelerate large-scale adoption of plug-in EVs.
"But China is really leading right now to build up EV infrastructure and boost EV policy," Prochazka added.
THE CLIMATE REPORT
The 1 million benchmark comes on the heels of a major U.N. report on climate change that warned of dire consequences if the world fails to limit warming to 1.5 degrees Celsius.
Buried in the second chapter of the report were ominous warnings about the need for rapid electrification of cars and other forms of transportation.
"Emissions increased by 2.5 percent annually between 2010 and 2015, and over the past half century the sector has witnessed faster emissions growth than any other," it said, "suggesting major challenges for deep decarbonisation."
"It's pretty widely acknowledged now that transportation is a very significant source of greenhouse gas emissions, and its share has grown over the last few decades," Sean Hecht, a law professor at UCLA, told E&E News this week. "So clearly, decarbonizing the transportation sector is going to be a crucial part of any strategy."
AUTOMAKER AND DEALER ATTITUDES
Some automakers and car dealers have argued that consumers just aren't interested in buying EVs.
Those attitudes were on full display at a hearing last month in Dearborn, Mich., on the Trump administration's proposal to weaken tailpipe pollution standards for cars and trucks.
Steve Bartoli, vice president for global fuel economy and greenhouse gas emissions compliance with Fiat Chrysler Automobiles, testified that consumers have shown a strong preference for gas-powered vehicles over more efficient choices like EVs.
Trying to force consumers into less-polluting cars is like trying to make a 3-year-old eat vegetables, said Rhett Ricart, a car dealer in Columbus, Ohio, who serves as regulatory chairman for the National Automobile Dealers Association.
"If he doesn't like vegetables, you can't stuff his mouth full of them," he said.
Environmentalists, however, claim that automakers and dealers could make greater efforts to market EVs and educate consumers about their benefits.
"What I hear a lot is that people aren't interested in these cars," said Lunetta of the Sierra Club. "That's not true. There's data that show that," she said, pointing to a recent Union of Concerned Scientists report that found 55 percent of Americans would be interested in buying an EV.
CITY CHARGING EFFORTS
A lack of charging infrastructure remains a barrier to EV adoption.
But several cities are making concerted efforts to build out charging stations. Those efforts are particularly aggressive in California, where transportation accounts for more than 40 percent of greenhouse gas emissions statewide.
In Sacramento, German automaker Volkswagen AG has committed to spending $44 million on the city's EV fleet and charging network as part of the settlement for its emissions-cheating scandal.
In Los Angeles, Mayor Eric Garcetti this summer committed to making the city carbon-neutral by 2050. Achieving that ambitious goal will require significant investments in EVs and charging stations.
Los Angeles already boasts 1,800 charging stations—the most of any U.S. city. But it's poised to further expand its reach through the Climate Mayors Electric Vehicle Purchasing Collaborative, a new platform that will allow 19 cities and two counties to buy hundreds of EVs for their fleets at competitive prices.
Lauren Faber O'Connor, Los Angeles' chief sustainability officer, said President Trump has created a leadership vacuum on climate, but cities and states are filling the void.
"We very much see that cities are on the ground leading the transition to a low-carbon economy," Faber O'Connor said. "The leadership on climate change is really coming from the local level, where we have connections to our citizens, where we own and operate fleets, and where we can make charging decisions that are convenient for individuals."