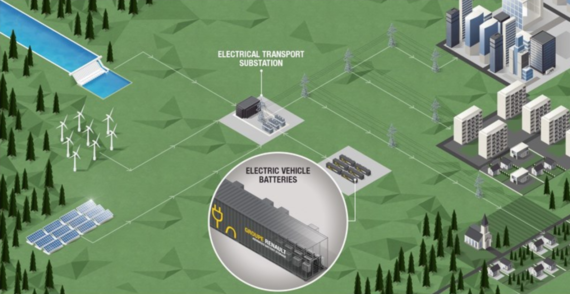 The Renault Group is launching its new Advanced Battery Storage program that will work to build Europe's largest stationary energy storage system using a combination of used and new electric vehicle (EV) batteries by 2020.
The 70 MW / 60 MWh battery will be installed across several sites in France and Germany and will be used to soak up excess renewable electricity generation, doling it out as it is needed. The system is a part of a push by the Renault Group to develop a comprehensive strategy that supports the smart electric ecosystem of the future along with the energy generation systems needed to power it.
The first facilities for the Advanced Battery System (ABS) will be developed early next year at three different sites in France and Germany, leveraging Renault's existing manufacturing facilities in the French cities of Douai and Cléon as well as at a former coal-fired plant in the Germany state of North Rhine-Westphalia (NRW).
At its core, the ABS is being built as a distributed energy storage system that will store excess renewable generation when it is not needed by the grid and sell it back when the grid needs power. "Our stationary storage solution aims to offset these differences: it delivers its reserves to a point of imbalance in the grid at a given time to reduce the effects," said Nicolas Schottey, Director of the Groupe Renault New Business Energy program.
It's the ultimate distributed Demand Response system that explores the possibility of using second-life EV batteries stacked up in containers at the multi-megawatt scale.
"This unique assembly will give Advanced Battery Storage the capacity to generate or absorb, instantaneously the 70MW power. This high power combined with high capacity of our solution will allow to react efficiently to all major grid solicitations," explained Schottey. The rapid response of the distributed energy storage system further increases its attractiveness beyond just offering tens of megawatts of storage capacity.
The system will start out small and be expanded up to its full planned capacity of 2,000 EV batteries, or around 60 MWhs at an average battery pack size of 30 kWhs. Older Renault Zoe batteries were 22 kWh, and the new ones are 41 kWh, so it seems that the system will include a blend of old and new, thus the fuzzy estimate for total capacity makes a bit of sense.
Renault is an automaker and realizes that to deliver a next generation, second-life, distributed energy storage solution like it has in mind for the Advanced Battery Storage program, it will need some help. To that end, it has partnered with La Banque des Territoires, the Mitsui Group, Demeter (via le Fonds de Modernisation Ecologique des Transports), and The Mobility House.