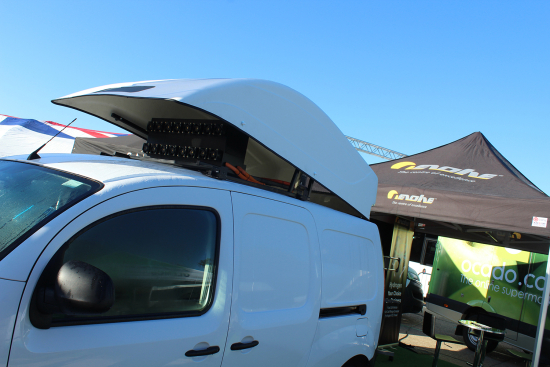 UK-based Revolve Technologies has revealed the successful completion of a project to develop novel fuel cell technology using printed circuit board (PCB) construction (PCBFC). This is the first time that a PCB-based fuel cell has been developed for use in an automotive environment.
Compared with conventional systems, the PCB fuel cell stack will reduce system costs, deliver reduced weight for a given power output and provide a more flexible form factor.
A Renault Kangoo ZE van with a PCB fuel cell range extender was displayed at the Cenex Low Carbon Vehicle Event at the Millbrook Proving Ground this week past. The 5 kW PCB fuel cell utilizes cost-effective production methods and materials from the PCB industry to reduce the cost and complexity of manufacturing proton exchange membrane fuel cells.
With the PCBFC fitted, an additional range of around 80 miles can be expected on a NEDC cycle with 1.7 kg of hydrogen on board, and by fitting additional hydrogen storage capacity, the range can be extended further.
On the demonstration model, the fuel cell—along with the control system and electronics—is integrated on the vehicle roof under a covered enclosure. The hydrogen storage tank is currently in the loading bay, although a future development could see the tank relocated to the roof.
While the demonstration was shown on a Renault Kangoo, the fuel cell range extender module is designed as an aftermarket kit for all commercial pure EVs. The technology can also be adopted by OEMs in other pure EV segments.
The latest project aims to support the development of the UK's low-carbon propulsion supply chain through the upscaling and streamlining of an innovative 5kW PCB-based fuel cell and light commercial EV with a hydrogen range extender.
Revolve Technologies worked with its partners on this project and carried out the system integration, benchmarking and testing at its HQ in Brentwood. Bramble Energy was responsible for fuel cell development and manufacture, UCL provided fuel cell testing and manufacturing support, STI performed the electronics development and manufacturing consultancy HSSMI worked on manufacturing upscaling.
The PCB fuel cell vehicle integration project is part of an Innovate UK-funded project, which has taken just over a year to bring to fruition, with the majority of the work being completed in July.