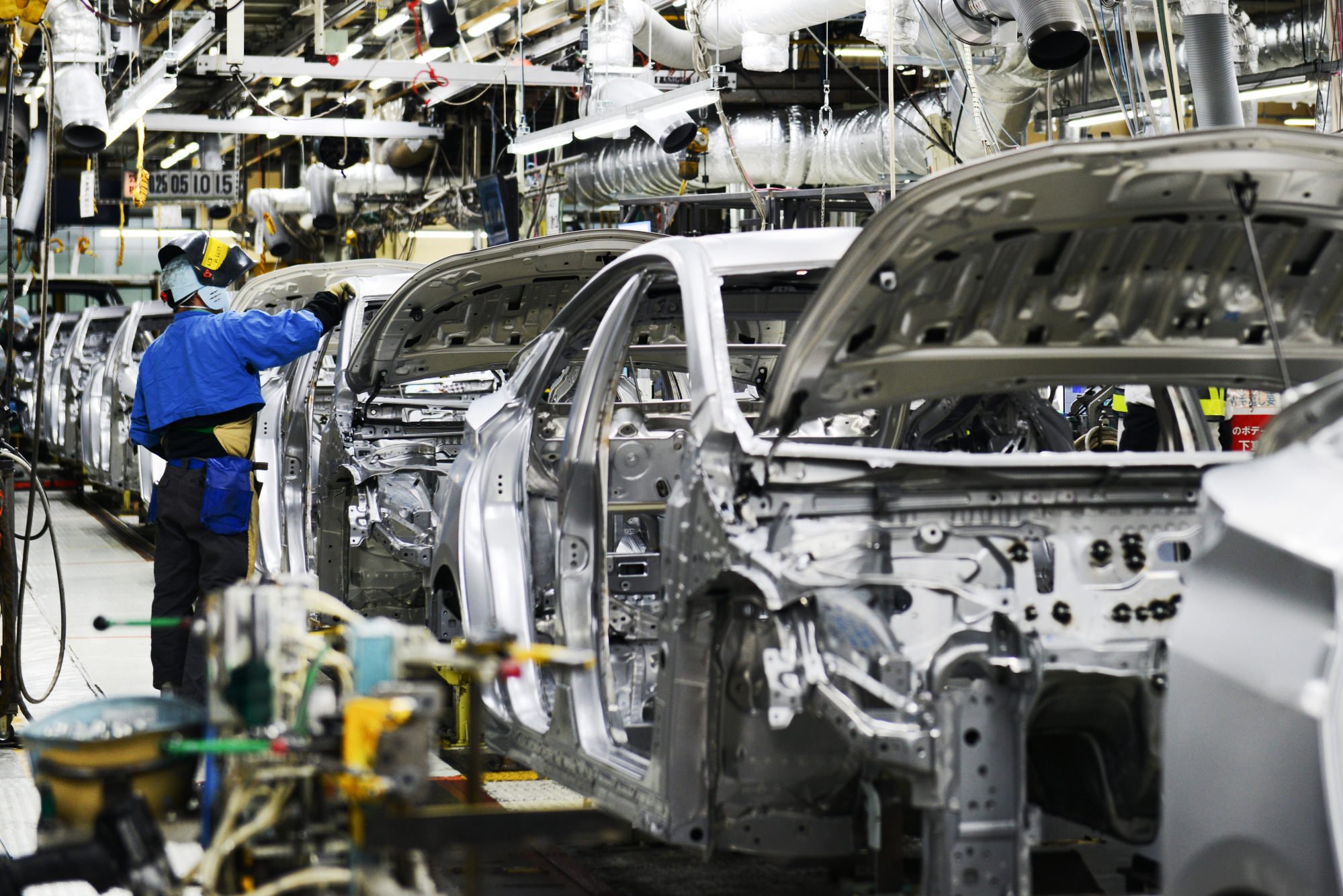 For evidence of just how big Toyota Motor Corp.'s bet is that hybrid cars will dominate new-energy vehicles until at least the end of the next decade, look no further than its battery supplier.
Primearth EV Energy Co., despite the name, doesn't make batteries for the pure electric vehicles that are emerging as a newer rival to gasoline-electric hybrids, which have been around for more than two decades. Owned 80.5 percent by Toyota and 19.5 percent by Panasonic Corp., PEVE, as it's also known, only makes cells for traditional hybrids, and the vast majority of those are of the older, heavier nickel-metal hydride variety instead of lithium-ion.
The company isn't in any hurry to change tack either, aiming to make a decision by the early 2020s on whether to produce the more energy-dense batteries needed for plug-in hybrids and EVs, PEVE President Shigeki Suzuki said in an interview. Waiting longer than that though would likely mean missing out on the opportunity, he said, pointing to the rapid rise of Chinese competitors Contemporary Amperex Technology Co. and BYD Co.
"We are still playing catch up in those technologies," Suzuki, who led next-generation battery development at Toyota until taking his current position in 2013, said at PEVE's headquarters in Kosai, Japan, on Friday. "Toyota's strength is hybrid, and right now Toyota is counting on us for hybrid batteries. We have our hands full just keeping up with that demand."
Toyota's Focus
Toyota President Akio Toyoda is putting hybrids at the center of a goal to sell 5.5 million electrified vehicles by 2030, half its total projected deliveries then. Toyoda, who has admitted being late in pursuing the battery-only cars increasingly being embraced by rival automakers and policy makers, wants 4.5 million of its sales target to be hybrids — either the traditional variety or their plug-in variants. PEVE currently has capacity to meet only about a third of that.
To bridge the gap, the battery manufacturer is expanding aggressively. By 2021, it plans to ramp up capacity in Japan to near 2.5 million packs a year. It will also double China production to about 210,000 packs annually when a second factory comes on line in 2020.
For now, sales of hybrids are outpacing pure electric cars because they are typically more affordable and aren't subject to anxiety over driving range, Bloomberg Intelligence analysts Steve Man and Kevin Kim said in a research note last month. Plug-in hybrid deliveries rose 160 percent in China in the first half, compared with a doubling for pure-electric EVs, according to BI data.
"Hybrids will be China's low-emission vehicle of choice in the coming years, rather than battery-electric cars," the analysts said.
To be sure, PEVE hasn't neglected EV batteries entirely. It has produced several prototypes, although Suzuki said the quality isn't yet where it needs to be for commercialization.
If PEVE does enter the market, it's likely to make the batteries in China with its existing local partners, according to Suzuki. Toyota plans to launch a pure EV in the country in 2020, on its way to offering at least 10 battery-only cars by the early 2020s.