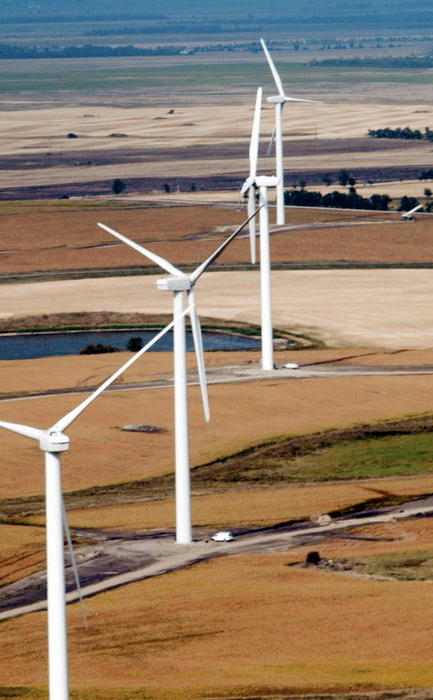 New figures from the U.S. Department of Energy show North Dakota as a leading state for wind energy development.
North Dakota added 249 megawatts of wind capacity in 2017, ranking eighth in the nation, according to the department's 2017 Wind Technologies Market Report released last week.
The state had a total of 2,996 megawatts of wind capacity at the end of 2017, the report said, making North Dakota 11th in the country for the total amount of wind capacity installed.
Wind producers have been using more powerful turbines with longer blades that enhance their capacity, said Alex Fitzsimmons, chief of staff for the Office of Energy Efficiency and Renewable Energy in the Department of Energy.
"We expect to see continued growth in wind energy nationwide, including in North Dakota," Fitzsimmons said.
North Dakota ranks fifth in the U.S. in terms of how much electricity is generated from wind compared to how much total electricity is generated in the state, the report showed. North Dakota ranks first in the nation in terms of how much of the state's demand for electricity could be met by wind generation.
Curt Pearson, spokesman for Basin Electric Power Cooperative, said the report highlights that North Dakota generates considerably more electricity than North Dakota residents need and exports it to other states.
"If you look at the big picture, North Dakota is net exporter of a variety of energy sources," Pearson said. "North Dakota really is a powerhouse of an all-of-the-above energy resources for America."
Wind energy made up about 20 percent of Basin Electric's generation capability at the end of 2017. The other top sources were coal, at nearly 45 percent, and natural gas, at about 20 percent.
North Dakota added more wind capacity in 2016, with 603 megawatts installed that year, according to the Department of Energy.
The U.S. wind industry installed more than 7 gigawatts of capacity in 2017, with Texas leading the country.