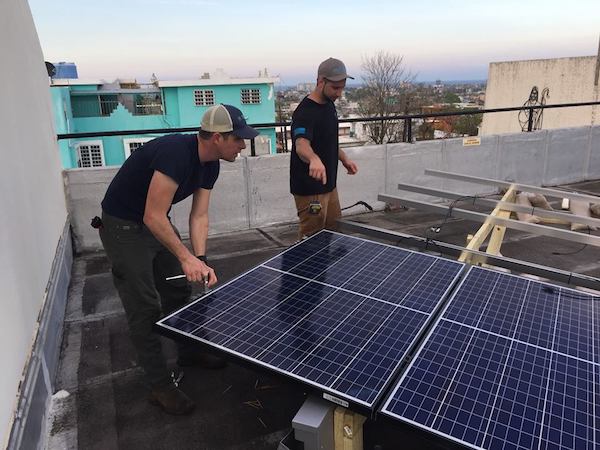 Green Street Power Partners has donated more than 220 solar panels — an array capable of providing 46 kW — to Grassroots Solar's solar project in Puerto Rico, part of its efforts to bring power to the island after the devastation of Hurricane Maria in September 2017.
The donation of the panels was facilitated by Bill Laberge of Grassroots Solar. Parts of the island, a U.S. territory, continue to be without power, and many more areas are without reliable power, due to the antiquated and weakened electrical grid. Grassroots Solar is working to alleviate that with solar energy.
"This [donation] comes at a great time, as this week the community finished the collection of data for 250 homes," Ricardo Diaz Soto, who is helping to coordinate the project in Barrio San Salvador, said in a release. "The data includes GPS coordinates, electric consumption, roof size and configuration, etc. We agreed on designing a pilot nanogrid in San Salvador with the panels and to install some on community sites."
Barrio San Salvador, in the town of Caguas, Puerto Rico, is where Grassroots Solar started the "Ponte Pilas" project. Ponte Pilas is an expression roughly meaning "pick yourself up and move forward," or "energize yourself and get it done." Literally, however, the expression translates to "put on your batteries."
Originally, the goal was to bring power to 100 homes. The community took over the project and expanded it. They hired an engineer, used high school students to collect data on the homes' power requirements, and designed a system of solar panels and batteries to power the whole community. They now have 250 homes signed up and expect it to get to 450 homes. They see this as a pilot for other communities.
The Barrio San Salvador community has set up a 501(c)3 non-profit organization, Comunidad Organizada de San Salvador, Inc., for this project, which will become a grid owned by the community.