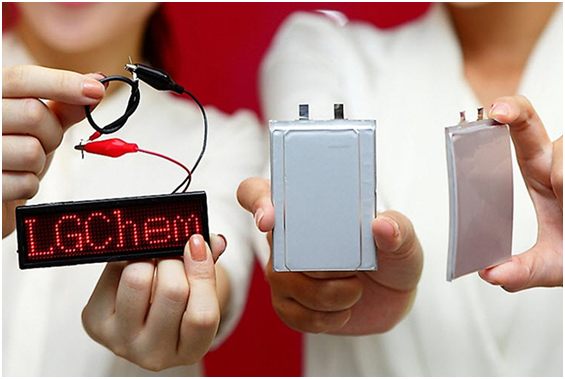 LG Chem is aiming to become a game changer in the market of small batteries for IT devices by harnessing its competitiveness in electric car batteries. The company plans to boost its price competitiveness by reducing the proportion of expensive cobalt materials and strengthen its control of the market by mass-producing next-generation batteries in 2020.
LG Chem announced on August 27 that the company would increase the proportion of sales of low-cobalt batteries for notebooks which contain more than 70 percent less cobalt content in cathode materials, which is one of the four major raw materials for batteries, compared to current products by applying new technologies to increase energy density.
Batteries are comprised of four raw materials such as cathode materials, anode materials, separators, and electrolytes and they usually account for about 35 percent to 40 percent of production cost. In particular, anode materials have the biggest impact on the outputs and capacities of batteries.
"Mainly LCO (lithium cobalt oxide) batteries with 100 percent cobalt content are applied to current batteries for IT devices," an LG Chem official said. "Cobalt is the most expensive mineral among raw materials for batteries. Its price fluctuations are so high that its price, which was between US$20,000 and US$30,000, soared to US$95,500 in March of this year." Low-cobalt batteries are nickel, cobalt and manganese (NCM) batteries with their cobalt content standing at only 20 percent to 30 percent. Therefore, LG Chem plans to introduce low-cobalt batteries for its laptops to enhance their price and supply competitiveness.
In addition, LG Chem plans to increase the percentage of NCM battery sales from 10 percent to 40 percent by the end of next year and to 60 percent by 2020 thanks to positive responses from the market. Based on its own process technology, LG Chem has developed an NCM cathode material that allows more raw materials to be loaded in the same volume by preventing particles from being deformed even at a high pressure. In addition, the charge density of NCM cathode materials was improved and the operating voltage range was increased from 4.2V to 4.35V, bringing energy density close to that of current LCO (lithium cobalt oxide) batteries.
By using these battery technologies, LG Chem will mass produce high-nickel batteries with a cobalt content of less than 5 percent and a nickel content of 90 percent in the small battery business by 2020. Increasing a nickel content leads to a rise in the energy density of batteries.
"We will further reduce cobalt contents in batteries and apply them to a variety of IT devices," said Kim Jong-hyun, head of LG Chem's Battery Business Division. "We will contribute greatly to reducing cobalt usage in the battery industry as a whole."