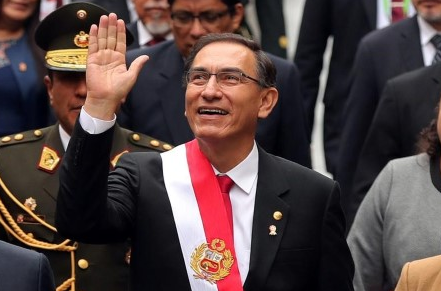 Peruvian President Martin Vizcarra told Reuters his government will likely pass laws within six months needed to tap a new lithium and uranium deposit, removing a major hurdle for Canadian miner Plateau Energy Metals' proposed $800 million mine.
Plateau said last month it had found 2.5 million tonnes of high-grade lithium resources and 124 million pounds of uranium resources at its Falchani deposit in southern Peru, and was looking for a partner in what it said could become the world's biggest lithium mine.
Vizcarra said his energy and mines minister was already working on a legal framework for mining uranium and lithium.
"It has to be soon. I calculate within the next six months," Vizcarra said in an interview on Thursday in the Amazonian town of Pucallpa where he also discussed his proposed referendum on anti-graft measures.
Vizcarra said that with the right "mechanisms," the project could be a key driver of development in the highland region of Puno, where the project is located at an altitude of more than 14,700 feet. "If we manage to do this, that wealth will mainly benefit Puno," he said.
Lithium is largely concentrated in the so-called lithium triangle between Bolivia, Chile and Argentina. But if Plateau can confirm the size of its discovery in reserves, it might attract companies such as China'sTianqi Lithium Corp or U.S.-based Albemarle Corp, to Peru.
Vizcarra, a former governor of a small copper region, took office four months ago after his predecessor, Pedro Pablo Kuczynski, a former Wall Street banker, resigned to avoid impeachment in a graft scandal.
Vizcarra said he did not think that Newmont Mining Corp's Conga gold project or Southern Copper Corp's proposed Tia Maria copper mine – both stalled by farmers' protests – were socially viable yet. "They need to be analyzed," he said.
Vizcarra called a proposed railway for transporting mineral concentrates from Peru's southern mining belt, where MMG Ltd operates the Las Bambas copper operation and Strike Resources wants to build an iron-ore mine, a "good project."
Vizcarra said he would study the project, which was proposed under Kuczynski, next year but believed it would work using a mix of private and public financing.