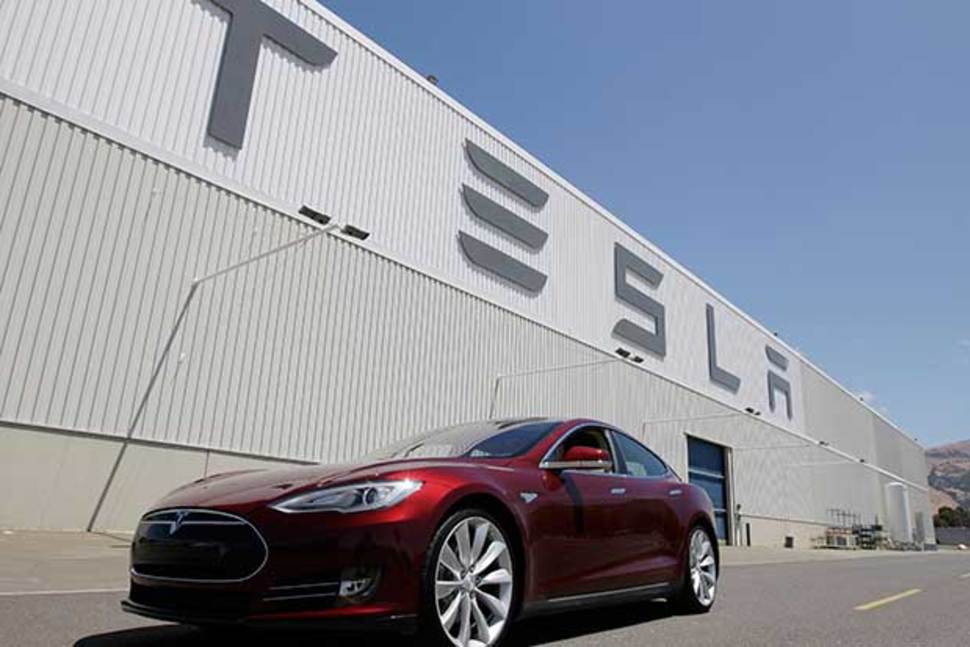 Tesla Inc (Nasdaq: TSLA) reported second-quarter 2018 earnings after the closing bell on Wednesday. After missing on earnings but beating on revenue, TSLA stock rose about 5 percent in after-hours trading.
Tesla earnings by the numbers. Adjusted earnings per share came in at a loss of $3.06, greater than the $2.92 per share loss analysts expected.
TSLA Q2 revenue was $4 billion, up 43.5 percent year over year. That was higher than the 40.6 percent increase to $3.92 billion Wall Street was looking for.
The high-tech electric carmaker produced 28,578 Tesla Model 3s in the second quarter, nearly triple the number produced in Q1. That number included over 5,000 Model 3s produced in the last week of June, a milestone CEO Elon Musk & Co. had originally aimed to hit by the end of 2017.
Going into Tesla earnings, shares were down 7.8 percent in the last year and 4.2 percent in 2018, dramatically underperforming the wider market.
Tesla's cash grab. TSLA ended the quarter with a cash balance of $2.2 billion, about $500 million less than what it had on hand at the end of March. The company also made a point to emphasize that it expected those cash balances to grow in the third and fourth quarter.
"Under the hood the primary questions for investors remain the company's cash burn and whether or not Tesla will need to pursue a capital raise," says Quint Tatro, managing director at Joule Financial.
That's an important point, especially considering TSLA's somewhat awkward, arguably desperate attempts to raise money.
Musk has made bold moves to try to both break even and turn cash flow positive in the third and fourth quarter, including asking for partial cash refunds from longtime suppliers.
The automaker has reportedly also asked Model 3 reservation holders for another $2,500 non-refundable deposit as it attempts to avoid further capital raises that would dilute shareholders or further threaten its credit rating.
"The company remains steadfast that they will not need additional capital and are keeping their profitability targets for Q3 and Q4 intact," Tatro says.
Model 3 updates. 2018 is unambiguously a make-or-break year in many TSLA stock owners' minds. Production of the company's first mass-market car – and the car that could determine the future of Tesla – the Model 3, is expected to finally start reaching meaningful levels.
One meaningful level that was certainly transgressed in Q2 was the breakeven point on gross margins for the Model 3. When production first got off the ground gross margins were negative, but as production rapidly improves, the famed "margins of scale" are beginning to appear.
TSLA crossed into positive gross margin territory for the Model 3 in Q2, and is forecasting levels around 15 percent in Q3 and 20 percent in Q4.
Tesla is aiming to produce between 50,000 and 55,000 Model 3s in the third quarter.
Tesla's energy ambitions. There's no denying it: 2018 (and likely 2019) will largely be about the Model 3 for Tesla: how quickly it can reliably ramp up production, make deliveries, and establish a framework for profitability.
That said, the 2016 acquisition of SolarCity signaled clearly that Tesla had larger plans.
"Tesla remains wholly focused on long-term wins," says Gustavo Huber, Silicon Valley Software Group practice lead. SVSG is a technology consultancy based in San Francisco.
"Paving the way for broader, though less glamorous markets with infrastructure and battery groundwork remain smart plays with far reaching impacts," Huber says.
TSLA is already having a significant impact there, with Gigafactory 1 already "the highest-volume battery plant in the world by a significant margin," according to the company.
At the end of the day, this was a solid quarter. Following through on the ambitious goal to break even in Q3 and Q4 while also avoiding negative cash flow, however, still seems quite difficult.
Musk and Tesla have already accomplished enormous feats. But they often miss ambitious goals and self-imposed deadlines, too. Don't make a long-term investment decision based on one Tesla quarter. First, check up on how that whole profitability thing goes in the second half of the year.