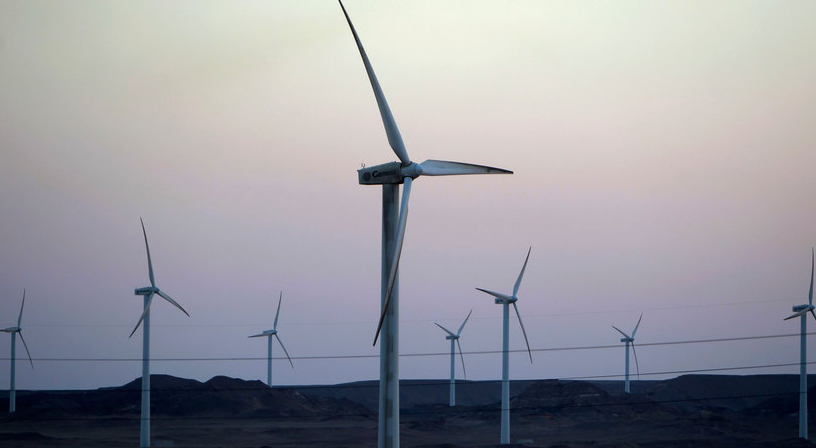 On July 24, President Abdel Fattah al-Sisi inaugurated Egypt's giant sustainable wind farm, which is the "largest in the world" of its kind, according to the presidency spokesperson.
The new $670 million wind farm has 290 turbines with a 580-megawatt (MW) capacity. The wind installations are located off Gabal el-Zeit along the Red Sea coast and are clustered on 100 square kilometers (38.6 square miles).
Egypt is taking active steps toward boosting the country's electrical power, environmental researcher Ragia el-Gerzawy told Al-Monitor.
However, the renewable energy from wind and solar make up 1-2% of electricity generation in Egypt, Gerzawy added.
The construction of the wind farm began in 2015 and was set up in three phases. Phase one included 120 turbines to produce an average output of 240 MW. Phase two featured an output of 220 MW with 110 turbines, and phase three included 60 turbines to produce 120 MW. The wind farm is not yet working fully, as it is operating at nearly 52% of its final capacity. The wind speed at the site is 12-33 meters per second (27-73 mph).
Meanwhile, the farm is equipped with an automated bird monitoring system to prevent migratory birds from flying into the turbines, a system costing 2 million euros ($2.3 million).
Sisi also inaugurated on July 24 three combined-cycle power plants that use natural gas to increase the electric power supply by 50% after connecting 14.4 MW to the national grid, according to the presidency.
The three plants, built by Siemens, are located in the administrative capital east of Cairo, Kafr el-Sheikh on the Nile delta and Beni Suef south of Cairo. They are powered by 24 Siemens H-class gas turbines, 12 steam turbines, 36 generators, 24 heat recovery generators and three 500-kilovolt gas-insulated switchgear systems.
In June 2015, the German company had clinched "its single biggest order" with the Egyptian government to expand the power supply, Siemens said in January 2017, with a total cost of $8 billion.
Emad Ghaly, the CEO of Siemens Egypt, stated that the newly installed plants will result in significant fuel savings of $1.3 billion annually, Siemens's 2017 release read, adding they will provide power for 45 million people.
The company added that it has trained 600 Egyptian engineers and technicians, while more than 20,000 workers were engaged in the work. Meanwhile, it has worked with local partners to construct the plants, using over 1.6 million tons of material.
Gerzawy pointed out that Egypt now has a stable electric supply thanks to the reliance on the recent offshore gas discoveries.
Egypt relies heavily on gas to generate electricity for homes and factories. The most populated country in the region produces about 4.8 billion cubic feet of gas per day, and the power plants dominate 70% of the total quantities of gas. Egypt needs a gradual transition from using natural gas to renewable sources, she added.
According to remarks made July 26 by Ayman Hamza, the spokesman for the Ministry of Electricity, Egypt's power reserves reach 7,000 MW, while the daily consumption is 31,000 MW.
Egypt is on its way to being a regional renewable energy center, but what matters is the power source, Gerzawy added.
Gerzawy is not in favor of Egypt's latest agreement of setting up a nuclear power station with Russia, which is supposed to be up and running by 2026 with a total capacity of 4,800 MW at a cost of $21.3 billion.
In May, the Electricity Ministry inked an agreement with a Chinese consortium to build a new coal-fired power plant on the Red Sea using the clean coal technology with a capacity of 6,000 MW and a total cost of $4.4 billion to be fully operational within six years.
The world is now turning away from coal and nuclear power, Gerzawy added.
Egypt has suffered from unplanned and scattered power outages for years, and this problem is being addressed with the new power plants. Egypt aims to shore up its relatively deteriorating economy by pumping new investments into energy.