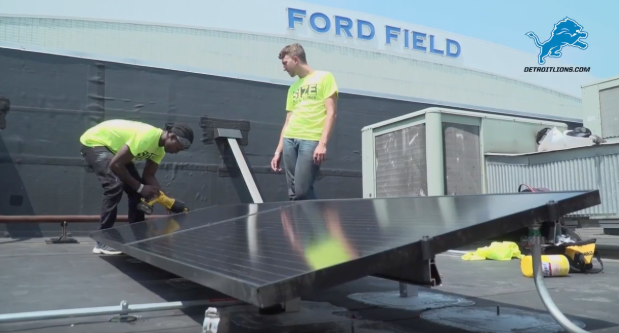 The Detroit Lions are seeing the light — solar-powered light — at Ford Field and their training facility in Allen Park.
Mooresville, N.C.-based Power Home Solar installed the Lions' first solar panels, which will power Ford Field's parking garage lights and offset a portion of electrical costs in Allen Park.
The company is investing $1.5 million with the Lions over three years, including a sponsorship deal and panel costs, Power Home Solar CEO Jayson Waller said.
The work comes as the solar power system provider expands its metro Detroit operations, with a new call center planned for Birmingham or Troy.
The Lions declined to disclose their own costs for the solar installation.
Power Home Solar approached the Lions through its preexisting partnership with Lions punter Sam Martin, a supporter of renewable energy, and his Sam Martin Foundation. The company's investment could increase, but for now, it will sponsor a Power Home Solar Lions pregame show and display advertisements in the stadium. It also gets an outdoor pregame booth.
The panels in Allen Park sit atop an equipment shed by the goal, Waller said. But the Lions needn't fear damage due to stray footballs — strength tests include driving over the panels with tanks, he said.
Power Home Solar installed the Ford Field panels on top of the attached parking garage during the second week of July. Allen Park work took place the last week of June. Each installation took three to four days, Waller said. Between design and installation, the job took 25-30 employees.
Waller declined to disclose the number of panels installed.
Adding solar power is part of an ongoing sustainability effort by the Lions in a pro-sports world where environmental advocacy is an important norm.
The team is also known for recycling and has cut energy consumption with LED lighting, spokesman Ben Manges said. Manges and Tom Wyatt, the Lions' senior director of corporate partnerships, teased more sustainability announcements to come this year.
"We're always looking for ways we can improve our energy efficiency and conservation. The technology's only going to continue to evolve," Manges said.
The Lions can't, at this time, install solar panels for use within the Ford Field facility itself, Manges said. So their first steps were the parking garage and practice facility.
"We couldn't seamlessly integrate them with our power grid. We had to install them on parts of our footprint that weren't necessarily tied from a power standpoint," he said. "As the overall technology continues to get more and more sophisticated, you'll see the potential for additional use."
Solar panels are also a physical tool to encourage fans to use sustainable power in their homes, Manges said.