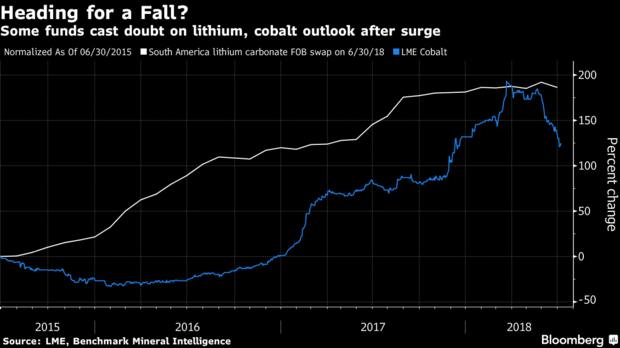 A new round of trade war tensions is sending metal markets into a tailspin.
Copper crashed through $6,000 a metric ton for the first time in a year and is heading for its biggest monthly drop since 2015. Zinc, lead, nickel and aluminum tumbled as the dollar rose for a third day. An index of copper-mining companies headed for the lowest close since 2016, paced by losses in Freeport-McMoRan Inc. and First Quantum Minerals Ltd.
Metals are accelerating a sell-off that started in early June over fears that the trade fight between China and the U.S. will dent economic growth, stunting demand for raw materials. On Thursday, China accused American officials of making false accusations and fired back against a claim President Xi Jinping is blocking talks with the U.S.
Read more: Global market calm at risk as commodities sink into correction
"Uncertainty dominates at this stage and investors are still very wary with all the trade protectionism and threats of retaliation we're seeing," Casper Burgering, senior sector economist at ABN Amro Bank, said by phone from Amsterdam. "You can clearly see that reflected in copper prices today."
Metal prices spiked lower just after 8 a.m. in London, leading brokers to speculate that the move was driven by technical funds, also known as commodity trading advisers, adding short positions at the start of the European trading day.
"Given the timing of these moves, it would appear a CTA offer has re-emerged," Alastair Munro, an analyst at Marex Spectron in London, said by email. This week, speculative short positions in copper have risen to the highest since a peak in January 2016, he said.
The rising tensions sent the yuan tumbling against the dollar, putting further pressure on buyers in China, the world's leading consumer of industrial commodities. The currency is trading near its lowest in a year.
Copper dropped 1.4 percent to settle at $6,065 a ton at 5:51 p.m. on the London Metal Exchange. The metal earlier fell as much as 2.6 percent to $5,988 a ton, the lowest since July 2017. Prices have fallen more than 17 percent since early June, approaching the definition of a bear market.
Zinc, lead and nickel lost more than 2 percent, while tin rose. Aluminum dropped as inventories on the LME rose for a ninth day, in the longest run of gains since 2009.