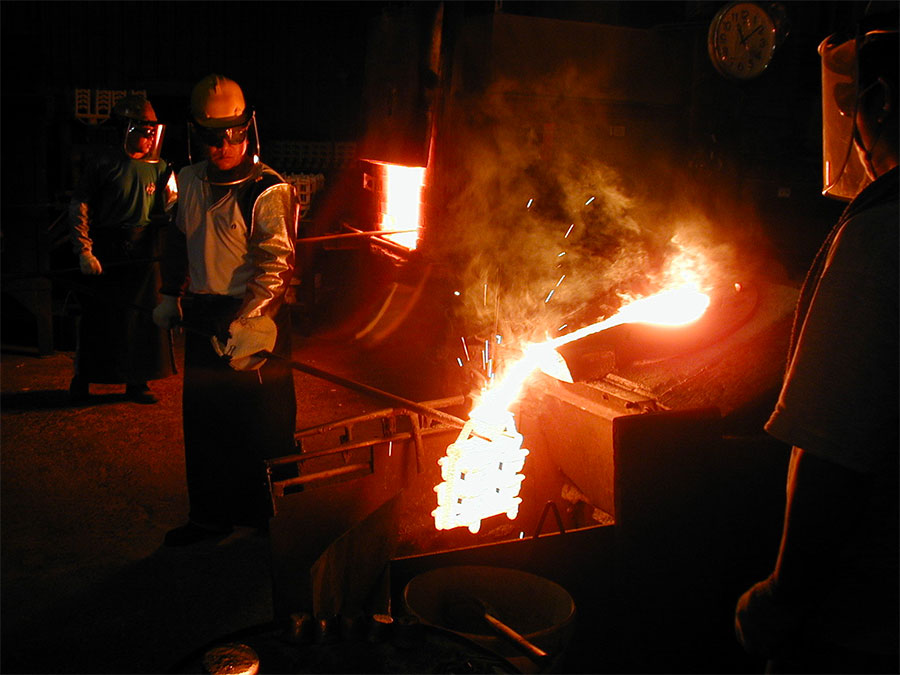 Ever since the Obama administration set stricter fuel-economy standards for vehicles sold in the US, automakers have been using technological innovations to improve efficiency. Some notable enhancements include fuel injection, three- and four-cylinder engines, turbochargers, and stop/start technology—which turns off the engine when a vehicle is idling at a stop light or sign and automatically restarts it when the accelerator pedal is pushed. But those upgrades can only do so much.
The real enemy of fuel efficiency is weight. That is why manufacturers are taking a hard look at the materials—traditionally, steel—that make up the frame, hood, and other parts. Some companies are turning to advanced materials such as aluminum and carbon fiber; others are implementing a new generation of lightweight, high-strength steel.
Losing weight
The attributes of aluminum and carbon fiber are enticing to automakers: Not only are both materials one-fifth the weight of steel, carbon fiber is also up to 10 times as strong. However, aluminum costs three times as much as steel to manufacture, and companies would need to spend hundreds of millions of dollars to incorporate new welding production techniques.
Carbon fiber is three to five times as expensive as aluminum, partly because few factories manufacture it. To address that issue, BMW invested heavily in a joint venture with SGL Automotive Carbon Fibers from 2010 to 2017. The resulting carbon-fiber factory at Moses Lake, Washington, has single-handedly increased global production of the material by 50%. The fiber's current cost isn't public, but "our goal is to reduce the price of carbon fiber to the price of aluminum by 2020," says SGL spokesperson Katharina Schraidt.
BMW's carbon fiber is delivered to Wackersdorf, Germany, where it's laminated into stacks with varying fiber alignments. The stacks are molded into parts to create the passenger cage, which is glued or welded by robots to an aluminum chassis. The entire car is manufactured in about 20 hours, about half the time required by more conventional production processes. BMW currently uses carbon fiber for two car models: the $130 000 i8, with production in Landshut, Germany, and the $44 000 i3, made in Leipzig.
Improving an old favorite
Carbon fiber makes sense for producing some upscale models, but it's too expensive for family vehicles, which usually cost between $15 000 and $40 000 and are the largest market segment by volume. Although some manufacturers are using aluminum for the hood, trunk, and certain other parts, the rest of the automobile is usually made of steel.
Due to steel's lower cost and existing production infrastructure, automakers have invested heavily into developing lighter alloys. In 2011 the industry-backed WorldAutoSteel organization introduced a concept model called the Future Steel Vehicle, developed during a three-year program conducted in conjunction with the US Department of Energy. Because of new manufacturing technologies and advanced steel compounds, the resultant model vehicle was 39% lighter than existing steel vehicles.
The new generation of advanced high-strength steel (AHSS) represents the best of the hard and modestly formable first generation and the more highly alloyed but more formable second generation. The properties of AHSS result from careful control over both the cooling time of the molten metal and the temperature at which impurities are added to the alloy. To reduce the risk of corrosion, the steel is dipped into a bath of molten zinc as it moves along the production line.
The latest generation of steel microstructures could prove useful in numerous applications and markets, says John G. Speer, director of the Advanced Steel Processing and Products Research Center at the Colorado School of Mines. But the auto industry is leading the way "because of their great drive to increase fuel economy," he says.
One recent advance is the use of supercomputing to tinker with potential steel designs before real-world tests are conducted. Under the Future Steel Vehicle program, DOE scientists merged separate simulations for tensile strength, impurities, and cooling temperatures into one supercomputer program. Simulations that once took two months now take two days, says Jody Hall, vice president of the automotive market at the Steel Market Development Institute (SMDI) in Southfield, Michigan. SMDI is a nonprofit organization funded by companies in the industry.
Hall says that from SMDI's perspective, the Future Steel Vehicle has been a big success. "Within three years of us showing the concept, Mazda had incorporated some of the work into their latest SUV design," the CX-9, she says.
Indeed, nearly every newly designed vehicle showcased at the recent 2018 Washington Auto Show used third-generation steel, sometimes in combination with aluminum and other advanced materials. Back in 2015, Ford switched to aluminum for the body and steel for the frame of its F-150 truck, which shaved 450 pounds (204 kilograms) off its weight. Ram has reduced the weight of its new 1500 truck by 225 pounds by using high-strength steels as the dominant material, increasing the amount of AHSS in the frame, and using aluminum for the hood, tailgate closures, and two crossbeams. Besides improving fuel efficiency, the changes helped to "improve stiffness, meet durability requirements, and absorb energy in crash events," says Mike Raymond, chief engineer for the Ram 1500. Now Ram has the most weight-efficient frame (as determined by mass per unit area) in the light-duty truck segment.
The 2019 Ram 1500 truck has a combination of different materials to balance weight and strength. Photo credit: Ram/FCA
Present trends in reducing vehicle weight seem destined to continue. Until more factories join the Moses Lake plant, carbon fiber will likely remain a luxury product, despite BMW's push. Aluminum's cost and complex welding requirements will minimize its use as well. But steel's future remains promising. DOE continues to invest in projects to make lighter, stronger steels, and more manufacturers are joining SMDI's consortium to help develop and deploy those steels. Steel remains a tried-and-true industrial material and continues to advance through technology innovation.