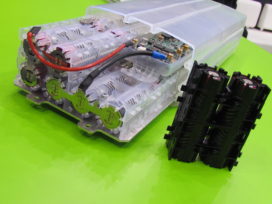 FRIEDRICHSHAFEN, Germany – At the earlier this week held Eurobike show Europe's biggest battery maker BMZ presented a new concept for e-bike battery packs. It's named 'Precursor'. Main feature is that these packs are made with building blocks of battery cells. It brings possibilities to make battery packs easily customizable.
With its Precursor platform BMZ wants to offer e-bike makers solutions for suiting their models to specific consumer needs. The Precursor battery packs are making use of the 21700 cell generation which offer 40% greater capacity. Integrating these cells into building blocks offers standard battery pack variations with 360, 540 and 720 Wh.
However, with the Precursor cell building blocks the battery capacity and range possibilities can be easily extended up to 200 km. The Precursor concept also offers customized battery housing options and multiple motor compatibility: Brose – Shimano and Dapu. BMZ Precursor batteries come with 4-year warranty and with a Smart App.