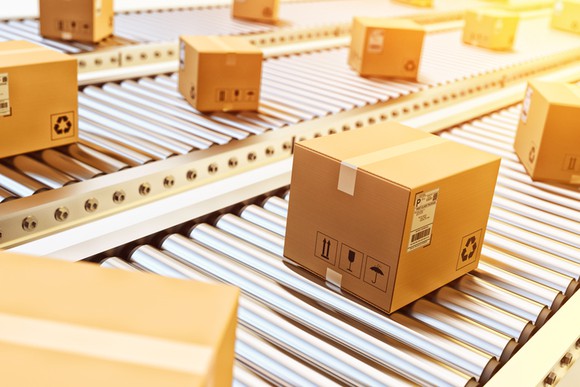 We're now just past the halfway mark of the year, which means businesses will soon be announcing second-quarter 2018 operating results. But investors don't necessarily have to wait for management teams to hop on quarterly earnings conference calls to know if a stock is a buy this July.
Sometimes a high-yield stock gets punished without good reason, as is the case with cardboard manufacturer International Paper (NYSE:IP). Sometimes an industry leader is quietly positioning itself to exploit a market rebound, as newly formed fertilizer leader Nutrien (NYSE:NTR) is doing. And sometimes it's just tough to pass up a global energy leader boasting a 6% dividend yield while it transitions to renewable energy: Royal Dutch Shell (NYSE:RDS-A)(NYSE:RDS-B) fits that bill. Here's why they're my top stocks to buy in July.
Deal abandoned, but room to run
Entering 2018, International Paper stock had kept pace with the total returns of the S&P 500 over the previous three years. But shares are down 11% year to date just past the halfway mark. That sets up an intriguing opportunity for long-term investors with an appetite for dividends, as the stock currently yields 3.6%. Management has big plans for increasing that over time.
As one of the leading manufacturers of cardboard and with a stable of low-cost production facilities in North America, International Paper has expertly exploited the growing trend of online shopping in the last decade. In the last five years, the business has averaged $1.9 billion in free cash flow. Management intends to deploy 40% to 50% of that in efforts to create shareholder value, either through share buybacks or dividend increases (or lately, both).
While a massive deal to acquire peer Smurfit Kappa was abandoned in early June, there are still other long-term growth opportunities for investors to look forward to. For instance, International Paper owns part of a joint venture in Russia called Ilim, which just delivered record equity earnings of $92 million in the first quarter of 2018. That compares to $183 million in all of last year. Throw in continued portfolio optimization efforts, together with low-cost production, and the company is poised to keep making progress on its near- and short-term goals while rewarding investors with a hefty dividend.
The top fertilizer stock for a potential rebound
Fertilizer stocks have had a rough go in recent years. So rough, in fact, that even the faintest whiff of a rebound in the second half of 2018 is causing shares of industry leaders to rally. While it's still too early to say selling prices are moving in the right direction for good, one of the newest companies is also one of the best positioned to capitalize on an improving market.
Nutrien, which was formed from the merger of Agrium and Potash Corporation, is a $34 billion goliath selling all three major agricultural nutrients. The company might be the most important global potash miner, as well as a major player in nitrogen. However, the business is also keen to grow its distribution network and diversify earnings away from nutrient selling prices. So, investors might be surprised to learn that the retail segment generated 35% of adjusted EBITDA last year — more than potash or nitrogen.
That's only one source of strength for the business. Nutrien is in the process of wringing out $500 million in annual cost savings from the merger, having achieved $150 million in the first quarter of 2018. Meanwhile, it's also selling its equity stake in Chilean lithium miner Sociedad Quimica y Minera de Chile, brought to the merged company by Potash Corporation. The sale is expected to generate at least $4 billion in net proceeds, which could halve the company's total long-term debt. That would bring its debt-to-equity ratio well below peers' and closer to the marks set by creditors. Combined with cost savings and the potential for higher selling prices, this would make the fertilizer leader well positioned to capitalize on a potential market rebound. Throw in a healthy 2.9% dividend yield, and investors may want to give this one a closer look.
A 6% yield and an eye on the future of energy
Royal Dutch Shell put up an almost unbelievable $14.2 billion in free cash flow in the last 12 months. That allows it to simultaneously reward shareholders with a 5.5% dividend yield and and position itself as a prime player in the future of energy — more specifically, in the coming transition from gas to electric transportation.
The world's largest oil companies are getting hip to that game by making giant, multibillion-dollar investments in electric utilities and renewable energy technologies. Holland's prized oil producer isn't risking getting left behind, planning to spend up to $2 billion per year on non-fossil energy sources. So far, so good.
Royal Dutch Shell owns a 44% stake in solar project manager Silicon Ranch, it acquired U.K. electricity provider First Utility, and it owns natural gas distributor and solar technology developer MP2 Energy. That provides a solid foundation upon which to build, but it's important for investors to note that management sets a high bar for its renewable investments.
All of its acquisitions in electricity distribution and electricity generation are expected to deliver equity rates of return of 8% to 12%, in addition to free cash generation within the next five years. In other words, Royal Dutch Shell (and a few other oil majors) isn't just gobbling up renewable energy assets to collect shiny objects for an expensive PR game; it's thinking strategically when deploying capital. That long-term thinking, when coupled with its impressive dividend yield, makes this oil stock a buy for investors committed to the long haul.
These stocks are worth a closer look
International Paper, Nutrien, and Royal Dutch Shell each boast an above-average dividend yield — and all are worth a closer look for distinct reasons. I think continued execution toward long-term strategic goals makes International Paper's 11% drop in 2018 an opportunity. Nutrien is making swift progress against its immediate post-merger plans, which could make it the fertilizer stock best positioned to capitalize on any potential rebound. Meanwhile, Royal Dutch Shell's ho-hum performance through the first half of the year, coupled with its 6% dividend yield and ultra-long-term transition to renewable energy, makes it an intriguing oil stock right now.