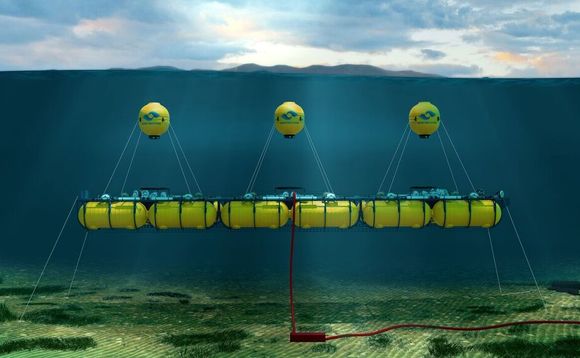 Marine Energy Systems hails successful deployment of its first wave energy device as new phase of sea-based testing begins
Marine Power Systems has announced the successful installation of its first WaveSub energy generation prototype in Falmouth harbour in Cornwall, marking the start of a new phase of sea-based testing for the technology.
The WaveSub device has now been deployed at the FaBTest marine test centre in the harbour, where it will run through the final stages of on-site commissioning before energy generation kicks off later this summer, Swansea-based developer MPS said.
It follows the first phase of sub-sea testing of the quarter-scale prototype which began with weather condition performance assessment back in October last year. The device has since undergone tow, submergence and assembly testing, with this week's installation completed with the assistance of Orkney-based marine contractor Leask Marine.
A decade and £5m in the making, the full-scale clean energy concept is designed to be installed under the sea around 10km offshore, enabling it to 'hide' from rough seas and potentially harness enough wave energy to power 5,000 homes.
The company has said it eventually hopes to build a full 100m-long 5MW WaveSub device out at sea and connect it to the UK power grid by 2020.
Dr Gareth Stockman, CEO of Marine Power Systems, said the technology could play a key role in the UK's nascent but world-leading wave energy sector. "MPS believe that with continued support and investment, wave energy can grow to become a new source of low carbon power as well as being a significant contributor to the UK's fast-growing renewables economy," he said.
It comes in the wake of the government's controversial decision last month not to offer state support to proposals for a tidal lagoon energy facility in Swansea Bay.
However, trade body Marine Energy Wales said the WaveSub installation demonstrated the potential of the sector to deliver economic opportunities in Wales, Scotland, and South-West England.
David Jones, project director of Marine Energy Wales, said the sector could reach rural, coastal regions of the country which many other industries cannot. "The deployment of WaveSub is a perfect example of this as the project has brought together Pembrokeshire, Orkney and Cornwall to successfully produce and deliver a device which will utilise our natural resources for clean energy generation," said Jones.