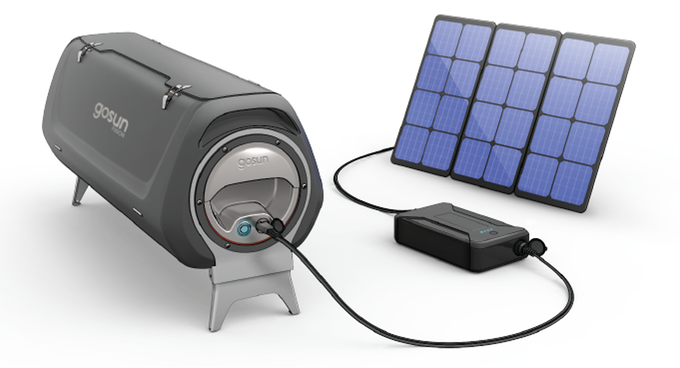 Up here in the Pacific Northwest it's camping season! While I'm not much of a deep woods kinda guy, but I do enjoy a good car camp. But the one thing that bothers me about camping is the one-time use propane tanks for cooking. You literally burn through them and throw the canister in the garbage. That's just wasteful.
Eco-friendly outdoor cooking is getting a jolt today with the launch of the GoSun Fusion Kickstarter Campaign. The new device uses both solar energy and a rechargeable electric heating system to cook up your favorite camp foods.
GoSun has been making a range of solar powered cooking devices since 2013. Its line of portable grills feature a cylindrical cooking chamber heated by a pair of parabolic reflectors, which capture the sun's heat and focus it on the cooking chamber.
This type of solar cooking obviously works best when there is plenty of direct sunlight. So to help out when the clouds roll in or night time hits, GoSun has added a 150-watt electric heater to the Fusion.
The Fusion's electric heater can be powered using a car's "cigar port," or you can pay extra to get a lithium-ion power bank. To step it up even further (and spend more), you can also get a solar panel charger for the optional battery pack.
GoSun Founder and CEO Patrick Sherwin told me that the Fusion can get up to 550 degrees Fahrenheit when the cooking chamber is empty. With good sunlight, it will cook a meal for five people in an hour.
This may seem like a long time for hungry campers, and the Fusion is not good for things like searing and broiling. But by using it, you do get the satisfaction of cooking without burning fuel or creating waste from those single-use propane tanks.
You can back and receive a bare bones Fusion without the battery pack for $299 on Kickstarter. Models with the optional battery will cost $449, and the version with the additional solar panel charger for the battery pack will set you back $619. Units will ship in April of next year.
Based in Cincinnati, OH, GoSun has sold 20,000 units in the past five years. The company has a track record of delivering, which is good in the age of failed crowdfunded projects. The company has raised a million dollars in seed funding.
If you're looking for a cleaner way to cook during next year's camping season, the Fusion could be a bright idea for you.