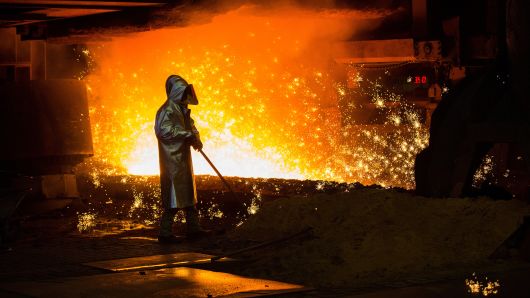 The boss of German industrial giant Thyssenkrupp said lawmakers in Brussels need to protect Europe from an influx of cheap steel from Asian countries.
On June 1, 2018, the Trump administration imposed a 25 percent tariff on steel imports, and a 10 percent tariff on aluminum, from the European Union, Canada, and Mexico. This Friday, U.S. tariffs are to be imposed on $50 billion of Chinese goods.
Heinrich Hiesinger, the CEO of Thyssenkrupp, told CNBC from Brussels Monday that restricting global trade was "the wrong way to go." He said while a reduction of steel sold to the U.S. was unfortunate, his bigger concern was where any surplus of steel from Asia would now end up.
"We are much more concerned about the likelihood that a lot of the volume (of steel) which cannot come in to the U.S. market might be re-directed to Europe and further increase the already really high imports here," said Hiesinger.
"This is the area we need to watch carefully. If it does happen then the European Union will need to find answers to protect the European steel industry," he added.
Hiesinger said China and a number of other Asian countries produced and exported steel which could erode profit margins among European firms.
In a bid to remain competitive, Thyssenkrupp and India's Tata Steel signed a deal Saturday to become Europe's second-largest steel firm. The new formed alliance, called Thyssenkrupp-Tata Steel, will employ around 50,000 workers. Combined annual sales, based on existing business, will add up to about 17 billion euros ($19.9 billion).
Hiesinger claimed savings could amount to as much as 500,000 euros each year as production sites can be used more efficiently and research and design (R&D) costs are to be split.
The deal, which involved no cash, was struck after a majority, but not unanimous, vote by Thyssenkrupp's supervisory board. It will see the loss of an estimated 4,000 jobs.
Following the announcement, the share price of Thyssenkrupp fell around 1.4 percent when markets opened for trade Monday. On the Bombay Stock Exchange in India, shares of Tata Steel fell by about 1 percent.
The Swedish activist investor Cevian Capital is the second largest shareholder in Thyssenkrupp and has been critical of the company's decision to partner with Tata, arguing instead that the German firm should be broken up.
Meanwhile, the U.S. hedge fund Elliott Advisors has also lambasted the deal, suggesting that Thyssenkrupp should have negotiated a larger slice of equity in the joint venture. Both firms are to hold a 50 percent equity stake.
Elliott reportedly bought a stake in Thyssenkrupp in May, but has not crossed the 3 percent threshold that would compel it to reveal its investment.