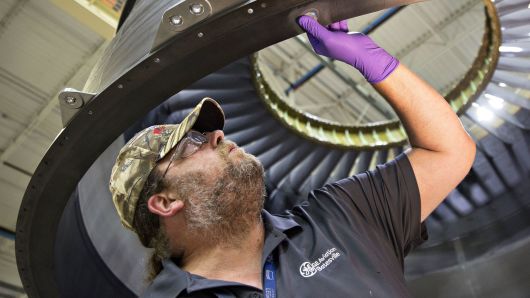 General Electric's dividend will be cut "precipitously" by the end of 2019, one leading analyst predicted to CNBC on Friday.
Stephen Tusa, an industrials analyst at J.P. Morgan whose reports have moved the stock before, expects GE's dividend cut will be in the "30 percent plus range."
"It's going to get cut, like let's be very clear about that," Tusa told "Fast Money Halftime Report." "Now that's not going to happen tomorrow. But make no mistake, as you exit 2019 or sometime in 2019, essentially, that dividend is going to go down precipitously."
Tusa has an "underweight" rating on GE's stock and price target of $12.75.
GE said Tuesday it would "adjust" its dividend once it completes the spinoff of its health-care unit, GE Healthcare, which will become a standalone company with its own dividend. The question is whether shareholders will be receiving a lower payout overall after the split occurs.
"GE expects to maintain its current quarterly dividend, subject to Board approval, until GE Healthcare is established as an independent entity," the company said in a statement Tuesday. "At that time, the new GE Healthcare Board of Directors will determine GE Healthcare's dividend policy, which GE expects to reflect healthcare industry practices. Also at that time, the GE Board expects to adjust the GE dividend with a target dividend policy in line with industrial peers."
The company's current dividend yield is 3.48 percent, higher than industrial competitors Honeywell, United Technologies and Eaton at 2.98 percent, 2.8 percent and 2.64 percent, respectively. It's hard to tell what the new dividend yield will be once the health-care business is gone.
GE did not immediately respond to CNBC's request for comment.
Shares of the widely followed blue chip are higher since making that announcement but still down 21 percent this year.
GE cut its dividend in half last November. The spinoff isn't expected to be completed for 12 to 18 months.