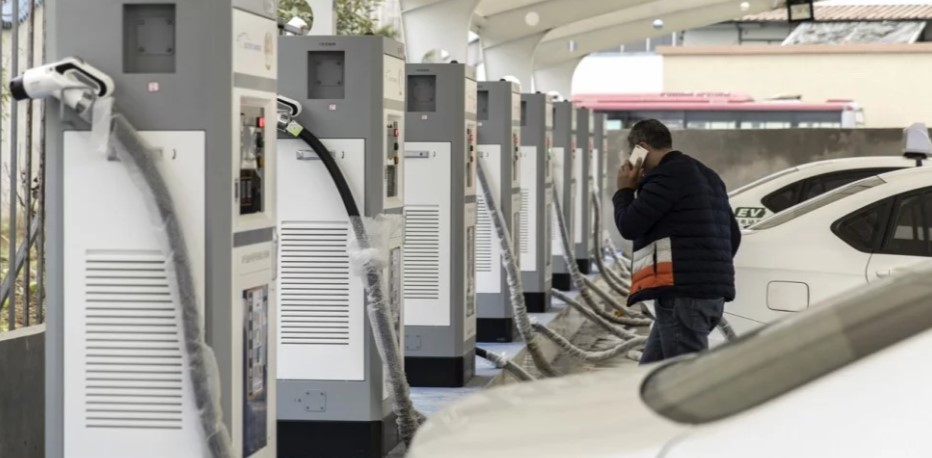 World prices of cobalt, lithium and nickel are booming as China's insatiable need for the battery packs used in electric vehicles drove up demand, recreating the economic bonanza that fuelled commodity-exporting countries a decade ago.
The price of lithium, a soft silvery white metal usually mined from brines, has soared by more than 300 per cent in the past two years. The price of cobalt, mostly mined as a by-product of nickel and copper, surged 129 per cent last year while nickel surged 4.6 per cent to a two-year high in London.
At the centre of the boom is China's support for developing electric vehicles (EV) to reduce emissions of greenhouse gases.
Electric vehicles made up a mere 2.3 per cent of the 30 million vehicles produced last year, according to the China Association of Automobile Manufacturers. That proportion may quintuple to 12 per cent by 2025, according to a forecast by JPMorgan Chase & Co.'s analyst Nick Lai.
For all this growth, EVs need batteries. The production of EV batteries is currently controlled by a relatively small number of manufacturers, with Panasonic commanding a 32 per cent stake, followed by South Korea's LG Chem with a 14 per cent market share. Shenzhen's BYD and Ningde's Contemporary Amperex Technology (CATL) make up a combined 17 per cent share of the market, according to JPMorgan, leading investments in China while competing head to head with each other.
CATL, formerly known as Ningde Shidai, is now the world's most valuable electric battery supplier. Once a little-known company based in Fujian province, CATL's shares have more than doubled since its June 11 listing on the Shenzhen Stock Exchange, giving it a market capitalisation of US$23 billion.
"Capital prefers to chase after companies that have a leading position in a sector," said Huatai Securities' analyst Kong Lingfei.
The demand filters down through the supply chain. An electric vehicle requires an enormous amount of power thousand times stronger than a smartphone, which is only possible through arrays comprising dozens of cells, to as many as thousands.
Most are lithium-based, together with a mix of cobalt, manganese, nickel, and graphite, all of which are in high demand.
Global demand for lithium may increase by 20 per cent by 2025, according to JPMorgan's forecast, still lower than estimates by Albemarle, a North Carolina-based producer of lithium, bromine and refining catalysts.
Improvements in battery technology are altering the composition of batteries, which could lead to nickel replacing cobalt in batteries, said S&P Global Ratings' analyst Michael T Ferguson.
Demand for nickel is expected to increase 11-fold in the five years between 2017 and 2025, with the battery sector predicted to become the second largest consumer of nickel after the stainless steel market by the middle of next decade, JPMorgan said.
Similarly, copper and primary aluminium, which are found in larger quantities in electric vehicles compared with cars run by internal combustion engines, are expected to see higher demand in the next few years, analysts said. Global demand for copper may increase by 10 to 20 per cent, according to Ferguson's forecast.
On the other hand, the rising cost of raw material is increasingly becoming a concern for Chinese battery manufacturers, who have fears that they can't control the supply chain.
Even CATL, which touts itself as a global leader in battery manufacturing, warned in its IPO prospectus that "the company's operations are likely to be affected by surging price of key commodities as well as a shortage of the materials needed."
"One of the main concerns in the market is that a healthy demand for electric vehicles will be slowed by the short supply of lithium, and especially cobalt," said Ferguson. Mining companies with exposure to cobalt, lithium or copper can get a boost from the growing demand from electric vehicles, he said.