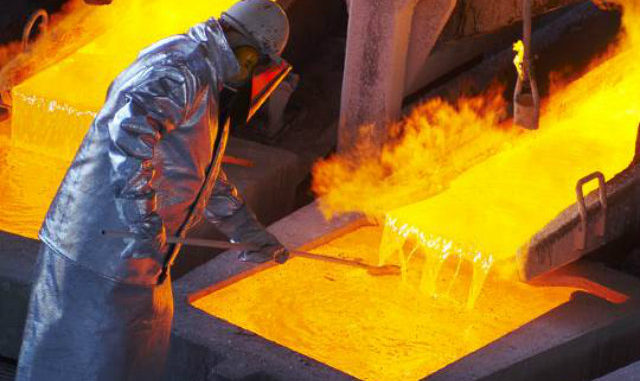 Copper futures lost more ground on Tuesday with pressure from escalating trade tensions between the United States and top industrial metals consumer China.
Zinc edged down to trade at last session's lowest price since early August as rising inventories weighed on the market.
Global stocks extended a sell-off as the mounting trade tensions between the United States and other major economies continued to steer investors away from riskier assets, lifting safe-haven U.S. Treasuries and keeping the dollar on the defensive.
"Rising trade tensions once again weighed on the base metals sector," ANZ said in a note.
"Soft fundamental data also exacerbated the weakness. Zinc led the sector lower, after data showed the market was in surplus for the first four months of the year."
The U.S.-China trade spat is putting pressure on commodity and financial markets. A government official told Reuters on Sunday that the Treasury was drafting curbs that would block firms with at least 25 percent Chinese ownership from buying U.S. companies with "industrially significant technology."
U.S. Treasury Secretary Steven Mnuchin on Monday said forthcoming investment restrictions would not be specific to China, but would apply "to all countries that are trying to steal our technology."
FUNDAMENTALS
COPPER: Three-month copper on the London Metal Exchange was down 0.7 percent at $6,707.50 a tonne, as of 0252 GMT, and the most-traded copper contract on the Shanghai Futures Exchange lost 0.9 percent to 51,400 yuan ($7,841.70) a tonne.
ZINC: Benchmark LME zinc fell 0.7 percent to $2,838.50 a tonne after dropping earlier in the session to $2,835, matching Monday's low, which was the weakest since August 7. In China, zinc prices fell to their lowest since early August at 22,380 yuan a tonne.
INVENTORIES: Daily data showed zinc on-warrant inventories – those not earmarked for delivery – in warehouses certified by the London Metal Exchange rose 2,300 tonnes to 241,525 tonnes. They have shot up 83 percent since the beginning of March. MZNSTX-TOTAL
CENTRAL BANK: China's central bank said on Sunday it would cut the amount of cash that some banks must hold as reserves by 50 basis points (bps), releasing $108 billion in liquidity, to accelerate the pace of debt-for-equity swaps and spur lending to smaller firms.