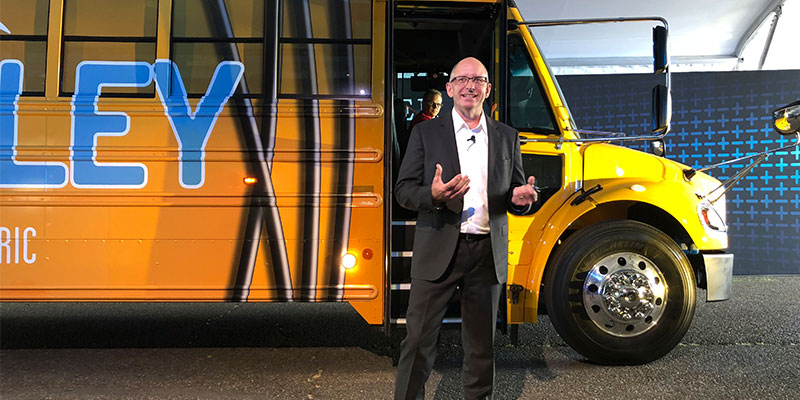 Freightliner sells more heavy-duty diesel trucks in North America than any other brand.
The division of Daimler AG, the German company that also owns the Mercedes-Benz car brand, controls about 40 percent of the heavy-duty truck market on this side of the Atlantic.
But Daimler knows that diesel as a fuel source may be regulated out of use in Europe and other overseas regions over the next several decades. It's now preparing for what will be one of the biggest technological changes in trucking by developing a range of electric vehicles.
Earlier this month Roger Nielsen, chief executive of Daimler Trucks North America, unveiled the electric version of its flagship Freightliner semi-tractor. Prototypes of the truck will go into testing in the Portland, Ore., area later this year. Full production is expected to start in 2021. Nielsen spoke with Trucks.com at his office at Daimler Trucks North America, overlooking the Willamette River in Portland. Here is an edited version of that conversation.
Why electric trucks?
There is so much interest out there. We see the battery technology is evolving. We think they'll be durable and reliable enough for applications in trucks. Of course, customers are pushing us, too. In California there is a lot of talk about zero-emissions vehicles. We get a lot of regulatory push as well to explore what's possible. Definitely the regulatory agencies are not going to push for something that's not technically feasible and economically feasible, and so they're talking to us every day, talking to our customers every day, trying to keep the interest up.
Toyota, a big automotive rival, is working on hydrogen fuel cell semi-tractors. Are you?
The efficiencies of the fuel cell are not up to the point where it would make a viable business case. We haven't given up on that. There's still some discussion to whether or not fuel cells could be paired with battery-electric vehicles as a range extender, but for us right now it's s an idea. We're not developing it any further.
Is interest in electric trucks coming from regulators or actual customers who must earn a profit?
It's a business case, but then you've got to ask what's in the business case? The business case often comes with threats of regulatory action or regulatory benefits [such as] lower gate fees at a port if you're zero emissions. It's hard to separate regulatory from the business case because at the end of the day the trucking company still is in business to make a profit. If they can make better profits with zero-emissions vehicles, be it battery or electric or whatever, they're going to push hard for it.
What do you make of Tesla and the startups circling the electric truck environment?
They're really exciting to watch. They have some really exciting announcements. We learn from them. For the most part it provokes a discussion in the industry of what's really feasible. You'll hear a startup talk about X, Y or Z specs. Then the customers will come to us and ask what's really possible? They come to us as their reliable source. When we make announcements, we're always targeting what the customer could use, what the customer could need. Others in the startup industry [are] trying to attract investors or money, which is a different message if you're trying to attract investment versus you're trying to attract customers. We're in the business of attracting customers, so our message is a little bit different. But for sure all the startups are interesting to watch. Of course, we've talked to them.
Do you see eventual cost parity with diesel trucks as battery prices fall and energy density increases?
Customers will get operating cost parity before purchase price parity. A lot of things go in that equation. Guys who buy trucks don't buy trucks based on acquisition price. They buy trucks based on the difference between the acquisition price and what the residual value will be half a million miles later. We need to also be worried about what is the value of that vehicle to the second owner. The first owner has no interest in taking 100 percent of the depreciation. He's used to taking roughly half of that in the first cycle of that vehicle.
As we go through our testing, we also have to determine what is the residual value of that truck on the secondary market. We can't drain the whole life out of the truck in the first half million miles. The customer is expecting a truck to last a million miles with the last half million being driven by his used truck customer. There's still a lot to be done there. Everybody understands that the power or the dollars per kilowatt-hour definitely has to come down.
Does a Freightliner battery retrofit or refurbished truck program help with the residual cost question?
There are definitely business models in discussion. Do you sell them a vehicle without a battery and then lease the customer a battery and take the full liability and responsibility for its durability? Do you work into the residual value the promise of a second battery pack and a half a million miles? There are different models we're exploring. We haven't settled on one.
You've said school buses are the quickest path to electric, heavy-duty vehicle adoption. Why?
It's because the range is so short in the morning, 40 miles maybe at most. Then the buses come back to a central depot and can be recharged again for a whole other cycle in the afternoon. You are going low speed through a predicable route from a state of charge of 95 percent to 45 percent and the same in the afternoon. That range anxiety, it's gone. We can also then see what the durability of the batteries and the whole system is. But definitely that opportunity to charge that vehicle twice per day is really opportunistic for us.
Do you see similar drive cycles in other industries that would make them electric truck customers?
Those are some great ones. Bakery deliveries start at 4 in the morning, and they can go all the way through the evening. Maybe that truck also has to come back midday for a charge, or there's charging somewhere along the way. The [Freightliner] eM2 [an electric medium-duty truck] would be a perfect application for a bakery with a 60-minute rest stop and charge. Say the driver wants lunch. He can get another 200 miles of range.
What will it take to make electric a long-haul solution?
As we get toward long haul, the power density or how many kilowatt hours can we pack into the smallest amount of weight is going to be one of the things we look at. Also, durability. You're going to go over the road. There's not much once you leave Palm Desert before you get to San Antonio. You can go by many, many cactuses before you see something. Drivers want the insurance that once they leave town, they don't need a charge. A normal driver can drive, what, 500 miles a day? But he'd love to drive that without having to stop and recharge. He is not making any money if he's not running, be it if something breaks on the truck or his batteries are dead.
What technology breakthrough still to come will make electric trucks truly viable?
The technology breakthrough has to come in battery chemistry. There's still something yet to be invented there that'll allow batteries to take more charge in a denser pack, easier to cool, easier to heat, faster to recharge.