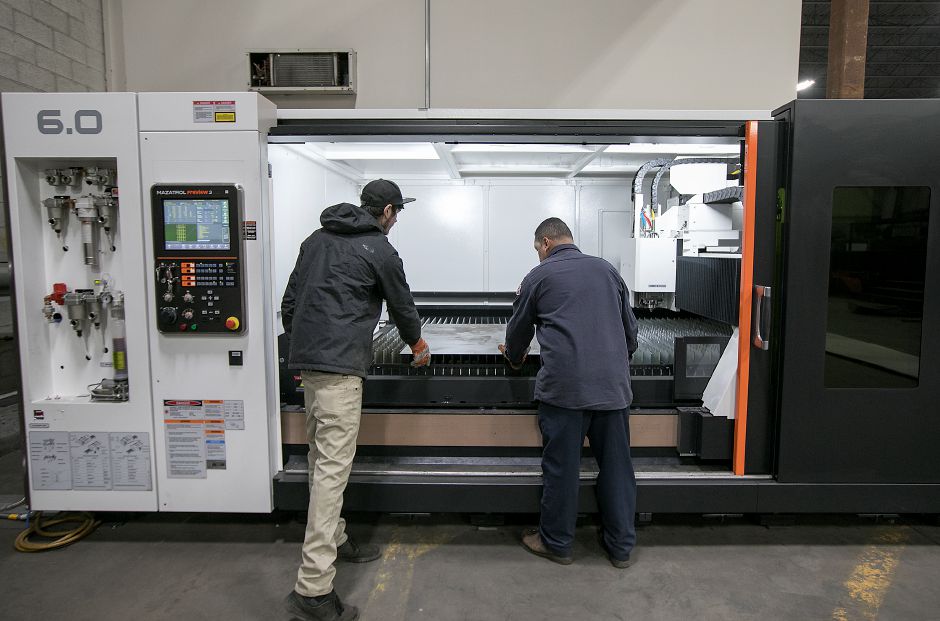 Area steel manufacturers face uncertainty and are passing higher costs to customers after exemptions on the Trump administration's steel and aluminum tariffs expired.
"We're paying more now in tariffs," said Chris Ulbrich, CEO of Ulbrich Steel & Specialty Metals Inc. in Wallingford and North Haven. "We buy from Europe and that's a 25 percent increase."
Exemptions for materials from Canada, Mexico, Brazil, and the European Union expired June 1. The tariffs have brought higher prices for many manufacturers and construction firms, and considerable uncertainty for both importers and domestic manufacturers of steel and aluminum.
The 25 percent steel and 10 percent aluminum tariffs enacted earlier this year were seen as a way to stop countries such as China from "dumping" steel into the U.S. market. Dumping is a practice of undercutting U.S. prices, often with support from government subsidies, and it has led to a sharp decrease in domestic. steel production.
The additional tax is expected to bring more business back to U.S. steel and aluminum mills, but the companies that buy steel, mainly manufacturers and construction firms, have started to feel the sting of higher domestic prices and supply disruptions.
Ulbrich and others said domestic suppliers aren't prepared to handle the increased volume. Ron Dziema, owner of Specialty Metal Fabrication Inc. on Cheshire Road in Meriden, and David Hunt, president of Berlin Steel, said the domestic steel mills began raising their prices before the tariffs were ordered. Prices have now increased by as much as 40 percent.
One of the largest steel mills in the country, Nucor Corp., which has an operation on Toelles Road in Wallingford, announced last week it expected significant earnings increases in its second quarter ending June 30. The company is headquartered in Charlotte, North Carolina.
"Our improved earnings are the result of much stronger market conditions that we believe have been positively impacted by deregulation, tax reform and higher, stable oil prices," the company said in a financial statement to investors. Stock prices at the end of the current quarter are expected to be double the $1 per diluted share price last year at this time.
For commercial builders, who have also been hit with 20 percent tariffs on Canadian softwood lumber, the cost of rebar and other metals already have gone up 15 to 20 percent from early this year.
"These tariffs will translate into higher costs for consumers and U.S. businesses that use these products, including home builders," Randy Noel, chairman of the National Association of Home Builders, stated in a May announcement. "Tariffs hurt consumers and harm housing affordability."
Ulbrich, who buys steel from France and has a customer in Mexico, said its "likely we're going to lose that (Mexican customer's) business, but it's only a small part of our business. It's not going to hit us drastically."
Hunt, meanwhile, said domestic steel suppliers are now charging the same price as some of their foreign competitors, even after the tariffs. He also said there's currently a backlog of domestic supply to help keep up with demand, but believe the higher costs will eventually affect business.
Howard Lohmann, owner of Logan Steel in Meriden, is also passing the prices on to customers.
"There's been very little resistance," said Lohmann, who deals with scrap in addition to manufacturing, fabricating and finishing.
Dziema, whose company makes telecommunications products, said he has built the added costs on as a customer surcharge.
"The pricing has to be passed on or you're out of business," Dziema said. "Ultimately, someone is going to have to pay for it."