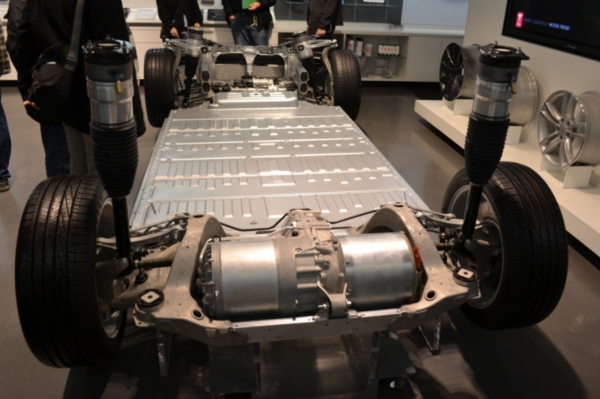 One of the biggest challenges to Tesla Inc.'s (TSLA – Get Report) long-term growth has nothing to do with the company's Model 3 production line in Fremont, CA, or with competition from traditional automakers.
Instead, it has everything to do with pulling a somewhat obscure chemical element.
Historically, cobalt has been a key ingredient in building high-energy-density lithium-ion batteries, like those used in electric vehicles. In some batteries chemistry, cobalt makes up as much as a third of the chemistry in a lithium-ion battery. Around half of the world's cobalt production goes into rechargeable batteries, and concerns about supply constraints and the environmental and human impacts of cobalt mining have made it a controversial component of electric vehicles.
Likewise, industry watchers have pointed to a disconnect between Tesla's lofty growth plans and the projected availability of cobalt.
But Tesla CEO Elon Musk dropped a bombshell on the industry earlier this spring when he revealed that the battery cells in the Model 3 use less than 3% cobalt, a fraction of the amount that other state-of-the-art battery chemistries are using.
And Musk recently doubled down, saying on Twitter that Tesla's next-generation battery will use none of the element:
Those numbers are consistent with the results of a Model 3 teardown commissioned by one of Tesla's German luxury rivals. Testing found only 2.8% cobalt content in the car's cells.
The 2170 battery cells being produced by Panasonic at Tesla's Gigafactory in Nevada were designed by both firms and the intellectual property behind them is reportedly exclusive to Tesla.
That difference between Tesla's battery tech and rival car companies could become increasingly relevant as electric cars make up a bigger share of total vehicle shipments; companies using cobalt-dependent battery tech will be stuck with material margin squeeze from the rising cost of cobalt while Tesla sidesteps it.
Meanwhile, shares of Tesla are correcting Thursday afternoon, following a practically nonstop rally from shares' lows at the end of May. From a technical standpoint, Tesla still looks bullish on all timeframes.