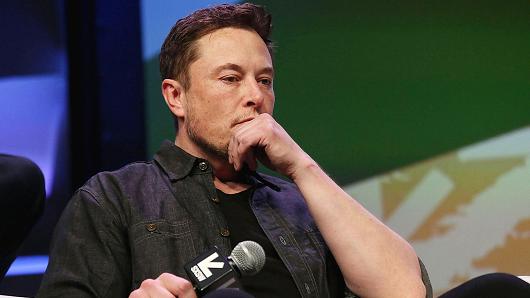 Tesla continues to struggle with controversy.
Over the weekend, actress Mary McCormack shared a video of her husband's Tesla car on fire in Southern California. On Monday, the electric car maker's chairman and CEO, Elon Musk, sent an email to employees about a fire in a California factory.
But despite the widely publicized incidents, Tesla's stock closed up for the seventh consecutive trading day Monday. Perhaps a better indication of the company's stock: Musk's Twitter account.
"It's one of those stocks where you get entry points occasionally because [Musk] says things and does things that makes you very, very nervous," Mark Lehmann, president of JMP Securities, told CNBC on "Closing Bell" Monday.
On Saturday, Musk tweeted a photo of the first Model 3 dual-motor vehicle.
The following day, Musk went after Tesla short sellers on Twitter, telling them they have about three weeks to cover if they don't want to lose money.
Shares of Tesla closed up 3.5 percent Monday at $370.83.
"It's still the car that everyone wants to own," Lehmann said.
Nancy Tengler, chief investment officer at Heartland Financial, said her firm doesn't own Tesla stock, but she remains "highly amused" by Musk's tweets.
"He's feisty and he's visionary," she said Monday on "Closing Bell."
But, she said, "I can't justify the volatility and the lack of earnings."
Still, the company's stock is up more than 20 percent since its shareholders meeting earlier this month.
Tesla could not immediately be reached for comment, but Musk commented on Twitter.