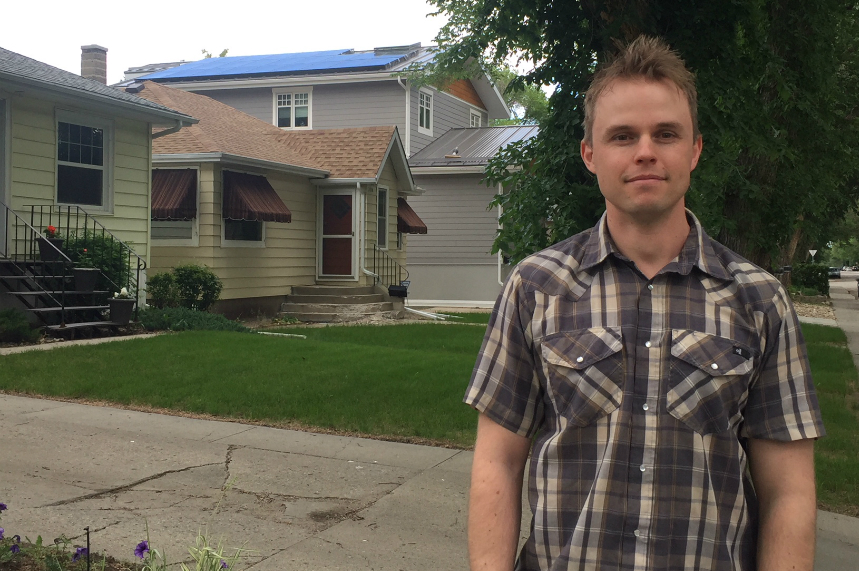 A Regina cooperative is hoping the popularity of solar power rises as their group sets off to bring more renewable energy to the province.
Wascana Solar Cooperative is Regina's first solar power co-op and they're holding their first annual general meeting on June 21 at the Westminster United Church, where they will elect their board and discuss what they want to accomplish.
"The time for solar power in Saskatchewan is here," said one of the founders, Josh Campbell.
"You hear our governments continually talking about 'how can we move forward in a way that's economically feasible and has good economic potential, but is also friendly (for the) environment?' Well, here's a way," Campbell said.
The beginning of the group, as Campbell explains, was in February 2017. Member Susan Birley held a meeting with a turnout of about 60 people, but interest declined after.
Campbell said he reached out to Birley wanting to try again.
They held another meeting last October. He was expecting 30 or 40 people, but around 120 people showed up.
Matt Pointer, a member of the group, installed solar panels on his house three years ago.
He said it cost him $27,000 in total to install.
However, the price of power is constantly rising while the cost of solar power is constantly decreasing.
"People, I think, are hesitant because they think it's a technology that might not pay off … they don't realize how simple it really is and how low maintenance it is," Pointer said. "You basically just put it up on your roof, plug it in and away you go."
Pointer said he rarely has a power bill in the winter — when all the extra energy the panels generate in the summer is used.
Pointer decided to join Wascana Solar Cooperative after he came across their Facebook page.
"If I can affect anybody's decision in a positive way or just help them make their decision, I thought it would be a good thing (to) be an advocate for solar as a person who already has it installed on their roof," he said.
"With the current state of affairs, it's go-time," Pointer said. "People will start to come around to say 'Hey, you know what, maybe this isn't witchcraft, maybe this is a real thing.'"
Campbell said the membership fee is $100 a person, but each member who joins helps drives down the cost of installing panels.