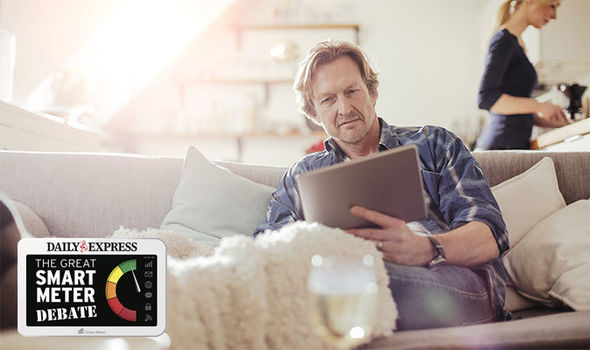 They save money and time – and will also keep your energy data safe.
The technology in our homes is changing all the time – with smart meters now replacing old-fashioned gas and electricity meters.
The meters – which report our gas and electricity use to energy companies in near-real time – remove the need to send manual meter readings, and do away with the infuriating process of estimated bills. If used correctly they can save us both energy and money.
Over the next two years, the Government hopes every household and small business will make the switch from analogue energy meters to smart meters.
"With thousands of smart meters being installed every day, more and more households and small businesses are taking control of their energy," says Claire Perry MP, Minister for Energy and Clean Growth.
"Smart meters are ending families' estimated bills, helping them to save energy and money, and are forecast to take £300m off consumer bills in 2020 alone. Every home and small business is being offered a smart meter, so make sure you get in touch with your energy supplier."
But is it really a good idea to have a smart meter installed? And how much do the meters know about us and our habits? In this, the fourth in a series of investigations into smart meters, the Daily Express sets out to uncover the truth about whether the meters could pose a security risk.
Despite their name, smart meters are not like other 'smart' devices, like TVs, telephones and even kettles, which communicate information via WiFi.
Smart meters instead send usage data to energy companies via a network similar to the one used to send text messages.
Further reassurance comes from the fact that the smart meter system has been created by some of the country's most skilled professionals.
"The system is very secure," says Robert Cheesewright, Policy and Communications Director at Smart Energy GB. "It has been designed by some of the world's best cyber security experts, including the National Cyber Security Centre, part of Government Communications HQ."
In addition Robert says that no personal details are stored on the device.
He explains: "The only information that is stored on it are your gas and electricity reading and what energy tariff you have chosen to go with. Your name, address, and financial details are not stored on your smart meter."
Protecting data
One of the great benefits of smart meters is that they collect data on when people use energy, helping the energy network to meet demand.
There are more than 11 million smart meters operating nationwide, making it convenient for people to see how much gas and electricity they are using without having to wait until they see their bills.
However, some remain concerned that the information used by the meters could be sold to other companies for commercial gain.
With the onset of the General Data Protection Regulation (GDPR), other companies can only access information gleaned by a smart meter if the owner gives express permission.
There have also been reports that energy companies can turn off the supply to individual houses remotely if they have a smart meter.
But this will not happen before the energy company has firstly contacted the customer to discuss options to repay the debt (for example, through a repayment plan), and then thoroughly assessed the impact of being disconnected.
No need to worry
As well as concerns about legitimate companies accessing the data, some people are also worried that the data could be accessed by unscrupulous hackers.
In theory, the technology on many electronic devices could be hacked into and the information on them could be collected.
But smart meters have been made especially difficult to hack and do not rely on a household's WiFi – plus, there are limited reasons why a hacker would want to access the information held by a smart meter.
Smart Energy GB's Robert Cheesewright explains: "All of the data from smart meters is transmitted through its own encrypted communications system.
"This means that it would be extremely hard to extract the information, and there would be limited uses for the limited information which was extracted anyway, so there is no reason to worry about your smart meter's safety."
Proper precautions
Professor Kamal Bechkoum, cyber security expert from the University of Gloucestershire, reminds us that we should all be mindful of our digital security as a matter of course, as our homes become more advanced.
"It is estimated that as many as 75 billion [internet-connected] devices will be in operation by the year 2020, with phones, cameras, TVs, washing machines and even kettles joining a growing list of items we can now interact with," he says.
"As this market increases, hackers may look to attack these new devices, which poses a real security threat if proper precautions are not taken.
"Thankfully, systems like smart meters, which are being installed throughout the country, are not connected to the internet and are designed to be part of a secure system which is extremely hard to hack."
Dr Ian Levy, Chief Technical director of National Cyber Security Centre, agrees.
"Security lies at the heart of the smart metering system and has been a key consideration at every stage of system development to ensure there are no loopholes," he says.
"The system operates on a national scale and has been designed as a secure end-to-end system, not just a collection of meters, energy suppliers and other components that have evolved individually."
'I was worried it would be expensive to have a smart meter installed'
Anne Bristow was surprised when she discovered upgrading her energy meters was free of charge
For Anne Bristow, upgrading her gas and electricity meters to smart meters has been a revelation – so much so that she has persuaded two other generations of her family to upgrade too.
"I'm really pleased I've got my smart meters," says Anne, 65, a civil servant.
But Anne didn't always feel this way – as she had previously been concerned about the extra cost of having one installed.
Free installation
"I'd spoken to friends who had smart meters and they said it was really useful for keeping on top of costs," she explains.
"I'm a widow, so I live on my own and I've got to watch what's being spent on utilities," she says.
"But I was worried it would be expensive to have one installed, as I'd read online it could cost upwards of £100 to get one."
Thankfully, Anne's supplier fitted the meters free of charge – and Anne was shocked at how quickly her new technology was installed.
Engineer
"I found out that utility companies were putting them in for free, so I asked for one straight away, and within a few weeks an engineer had arrived to fi t the smart meter."
Anne found it encouraging to see what is being spent on her gas and electricity rather than waiting for her bills to arrive.
"It's no longer a shock when a letter from my energy supplier lands on the doormat. And I've saved energy – and money, too."
Now, Anne has arranged to have a smart meter installed in her mother's home – and has encouraged her daughter to upgrade too.
"Soon we'll all have one," she laughs.