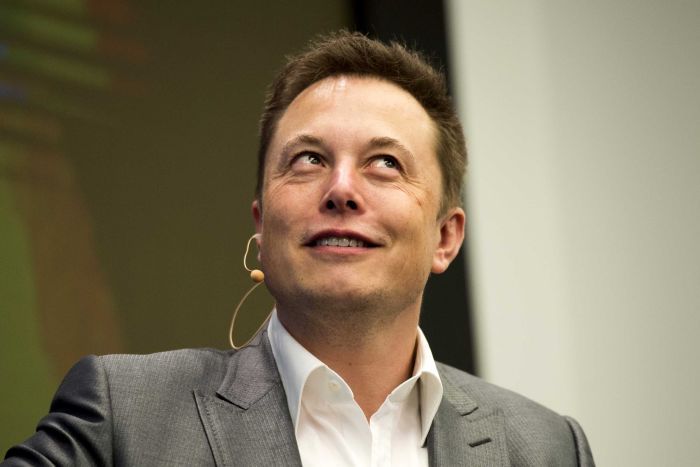 The Dow Jones index ended its day flat at 25,321 points, while the broader S&P 500 gained 0.2 per cent.
The Nasdaq rose by a moderate 0.6 per cent, after it was driven higher by big-name technology stocks like Facebook, Amazon, Netflix and Alphabet (Google's parent company).
Tesla cuts thousands of jobs
Even shares in Tesla jumped 3.2 per cent to a three-month high of $US342.77 — after its chief executive Elon Musk announced the company would slash thousands of jobs, or 9 per cent of its workforce.
The electric car maker is trying to cut costs and become profitable, without endangering the production ramp-up for its Model 3 sedans.
These job losses will mainly be in salaried positions, which leaves factory workers, who are paid by the hour, safe from this round of job cuts.
In a staff-wide email, Mr Musk said the cuts were part of a simplification of Tesla's management structure, which he previously flagged in May.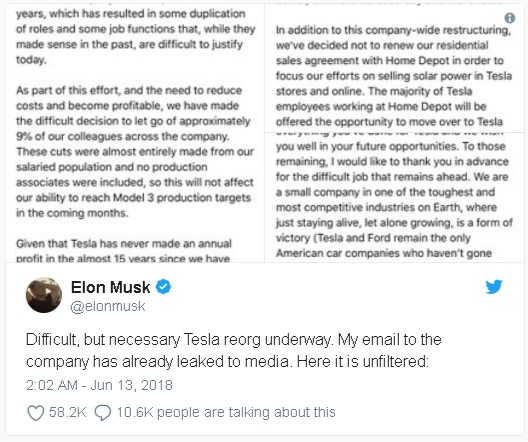 "As part of this effort, and the need to reduce costs and become profitable, we have made the difficult decision to let go of approximately 9 per cent of our colleagues across the company," Mr Musk wrote.
Tesla said it began notifying affected workers on Tuesday and would continue to do so throughout the week.
A spokesman said it would reduce overall employment back to around 37,000 — roughly in line with numbers at the end of last year.
The company has been trying to hit a 5,000 per week production target of its Model 3 sedans after facing initial production hiccups.
Last week, Mr Musk said the carmaker should achieve its target by the end of June.
Tesla has been burning through cash as it continues to spend on its assembly line and prepares for new investments on projects such as the Model Y crossover and its Gigafactory.
Several Wall Street analysts anticipate a capital raising this year — despite Mr Musk's previous statements that it will not be necessary due to profitability and positive cash flow in the third or fourth quarters.
US rate hike ahead
In the broader US market, there was another reason for the cautious trading — the Federal Reserve is widely expected to raise US interest rates on Thursday morning (AEST).
This would be the second time that the Fed increases borrowing costs this year, and the market will scrutinise its post-meeting statement on how many more rate hikes are in store for 2018.
"I don't think they're going to say anything particularly related to a rate hike in December," said Robert Pavlik, chief investment strategist at SlateStone Wealth LLC, New York.
"If they say a little too much about inflation, that's going to give the market a reason to get concerned."
Australian market today
ASX futures are down 10 points, and given the lacklustre lead from overseas markets, Australian shares are likely to start the day lower.
The Australian dollar was weaker against major currencies. It fell to 75.7 US cents, 56.6 British pence, 64.4 Euro cents and 83.6 Japanese yen.
Westpac will today release its monthly report on consumer sentiment, which peaked at 105.1 in January, but has been trending lower since then.
In addition, Reserve Bank Governor Philip Lowe will speak today on "Productivity, Wages and Prosperity" at an Australian Industry Group event in Melbourne.
Dr Lowe will likely be asked to give his latest thoughts on the health of the Australian economy at the Q&A session after his speech.