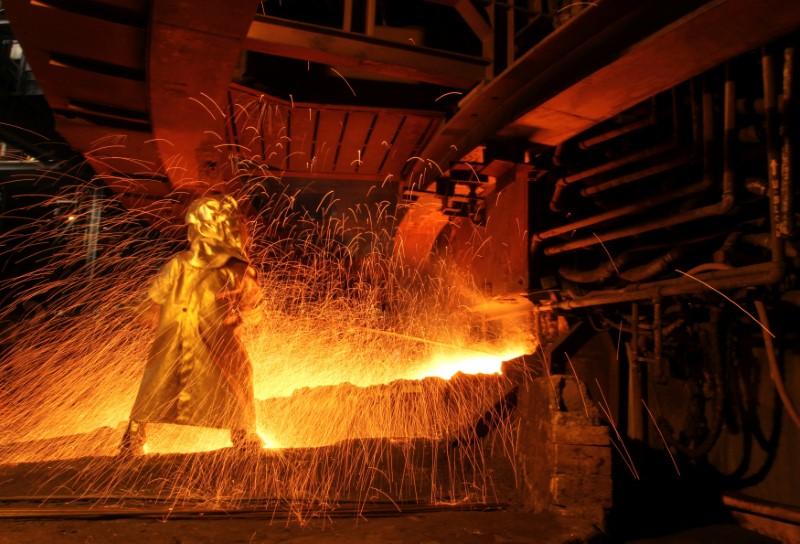 Base metal prices were mixed on Monday as positive sentiment over strong import data in China, the world's biggest metals consumer, was tempered by renewed fears of a global trade war amid a lack of consensus at the G7
summit in Canada.
China's unwrought copper imports in May reached their highest monthly total since December 2016, according to customs
data released on Friday.
London copper had touched a 4-1/2-year high on Thursday on concerns over a possible strike at the Escondida mine in Chile.
However, the metal prices slipped in the next session and traded lower for a second straight day on Monday.
Malcolm Freeman, CEO of Kingdom Futures, wrote in a note that has been "no real follow-through" since funds piled into copper last week, "and the danger is signals will weaken again and everyone could get back out as quickly as they got in".
FUNDAMENTALS
* SHFE COPPER: The most-traded August copper contract on the Shanghai Futures Exchange was up 0.2 percent at 54,220
yuan ($8,465.66) a tonne by the mid-session interval, trading higher for a seventh day.
* LME COPPER: Three-month copper on the London Metal Exchange was down 0.2 percent at $7,295.50 a tonne, by 0456 GMT, but was still within a striking distance of the recent high of $7,348.
* ESCONDIDA: The union at BHP's Escondida copper mine in Chile said on Friday it saw a "favourable scenario" for reaching a deal on a new labour contract with the company, citing higher copper prices.
* TARIFFS: Europe will implement counter-measures against U.S. tariffs on steel and aluminium just like Canada, German Chancellor Angela Merkel said on Sunday, voicing regret about President Donald Trump's abrupt decision to withdraw support for a G7 communique.
* RUSAL: Rusal's exports and finances will take another hit if Russian tycoon Oleg Deripaska is unable to persuade
Washington to lift sanctions on the aluminium producer by late August, three industry sources said.