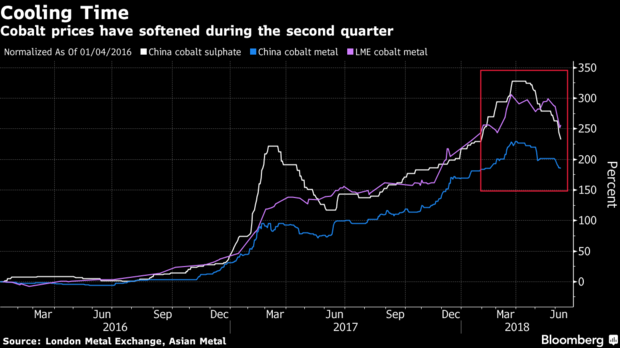 Cobalt is facing its first major test since an impending demand boom from electric vehicles triggered a two-year surge, with prices retreating in top consumer China amid signs there's still enough material to go around.
The price for cobalt sulfate — the chemical form used in car batteries and consumer electronics — fell last week to its lowest since January, and is down more than 20 percent from an April peak, according to researcher Asian Metal Inc. Meanwhile, benchmark cobalt metal is also softening after reaching the highest level in a decade earlier this year, Metal Bulletin data show.
While demand from the expanding electric vehicle industry is still on course to rise rapidly in coming years, a lull in purchasing by battery makers suggests the market is not yet short of supply. "The current atmosphere in China has gone fairly bearish recently, certainly around chemical demand," Caspar Rawles, analyst at Benchmark Mineral Intelligence, said in an interview.
Cobalt has attracted a wave of investor attention as global manufacturers make more cars powered by cobalt-reliant batteries, rather than combustion engines. The material mined mostly in the Democratic Republic of Congo has rocketed in price on fears there won't be enough supply to satisfy the structural shift in demand. Top Chinese battery maker, Contemporary Amperex Technology Co., whose shares surged the maximum 44 percent on their first trading day on Monday, has said it's most worried about cobalt supply among raw materials.
Prices for sulfate, which is delivered in the form of a coarse salt, are still more than 200 percent higher than two years ago. But the recent slide points to a changing dynamic, at least in the short term.
Various factors are a drag on sulfate at the moment, according to researcher Shanghai Metals Market. One is that battery makers are not placing big orders for cathode supplies in the third quarter, and a second is that traders holding sulfate were spooked by falling global prices and decided to sell. Finally, there's speculation supply is being bolstered by more recycling, where the mineral is extracted from old phone batteries or other cobalt-rich waste.
No Shortage
"The weak demand is the most important among these three factors," said Hong Hengan, Shanghai-based cobalt analyst at SMM. "We don't really see any demand gap that needs to be filled for now. We see the market in surplus at the moment, no matter whether it's the metal or the chemical form."
Benchmark Mineral's Rawles said rapid investment by Chinese companies in processing plants for cobalt may have contributed to oversupply of sulfate.
To be sure, there are upside price risks. A new mining code in the Democratic Republic of Congo, which has drawn complaints from producers, may slow the addition of new capacity, Citigroup Inc. wrote in a note. The bank is also "constructive" on the outlook for demand and prices in the second half, it said.
Global prices are set by cobalt metal, which unlike sulfate is not generally used in batteries. Benchmark metal prices slid for a sixth week through Friday, according to Metal Bulletin data, retreating from the highest since 2008 in April. Weaker prices for cobalt materials have also fed into equities: