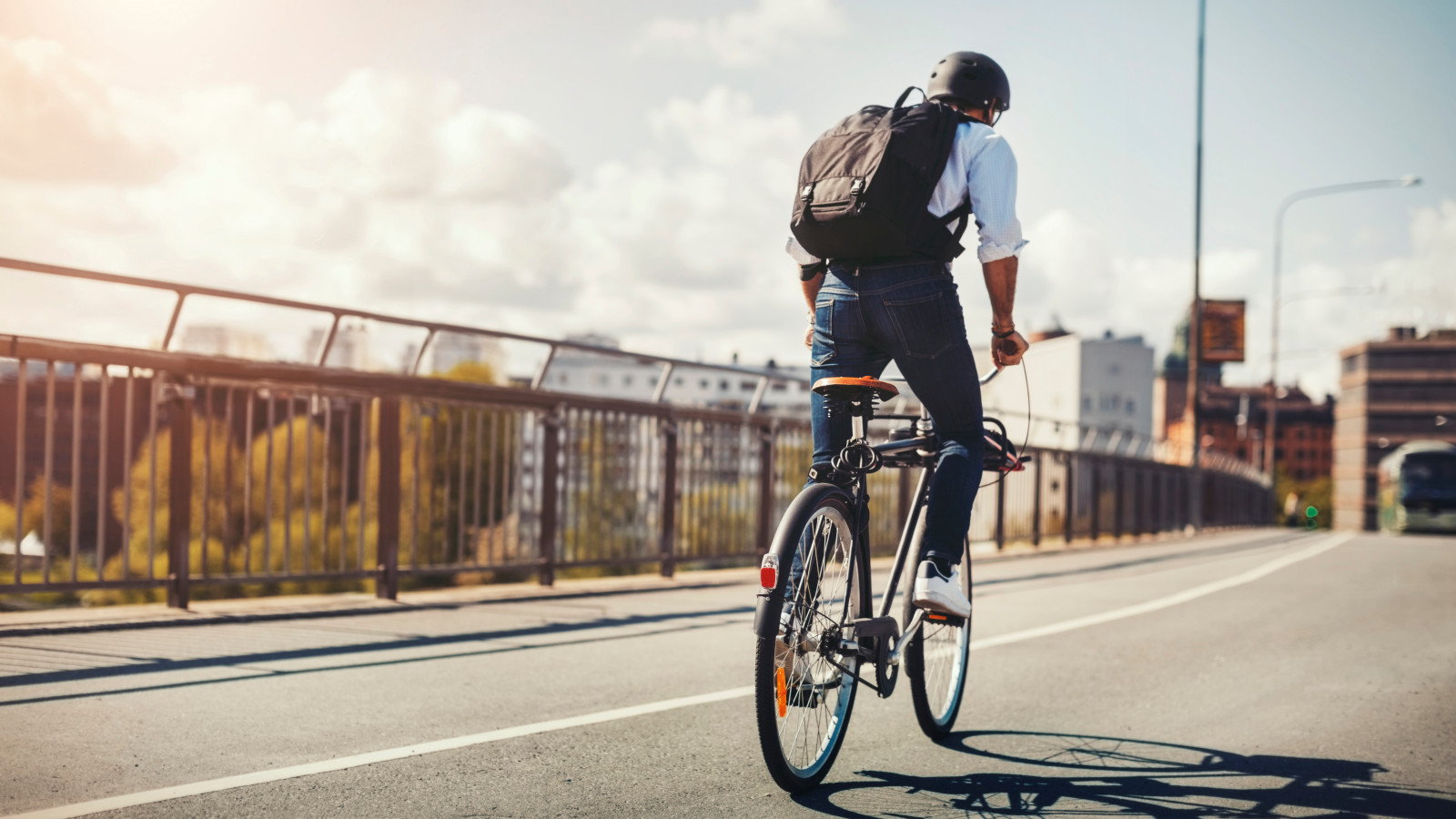 You've pulled your bike out of storage and you're riding to work or to dinner with your family and buddies. But as soon as bikes come out, so do bike thieves. Instead of relying on your old, worn-out lock, make sure your set of wheels stays where you left it with these bike locks. Choose the right one for you based on the level of security you need.
Kryptonite Fahgettaboudit Chain
With a security rating of 10/10, there's probably no more secure way to lock your bike than Kryptonite's Fahgettaboudit Chain. The chain is 14mm six-sided chain links made of hardened manganese steel with a nylon cover to protect your frame. It secures with a reinforced padlock-style 15mm shackle lock with a hardened steel crossbar and high security disc cylinder that's been reinforced to resist drilling. At over 15 pounds, you won't "fahgettaboud" this chain and lock being in your bag. But you will leave your locked bike with confidence it'll be there when you return. A sliding dustcover keeps city grime out of the lock's inner workings. The lock comes with three keys, including one with a built-in LED to make opening it in the dark easy. The brand will reimburse you up to $5,000 if your secured bike gets stolen.
Tapplock1
Never worry about finding your key or remembering your combo again. Tapplock is a padlock with a fingerprint sensor similar to what you'd find on an iPhone. Press your thumb on the sensor, and it reads your personal signature and unlocks in under a second. Don't worry if you're not the only one who needs access. The lock stores up to 500 prints, which you can manage with the app for permanent or temporary access. It's functional down to 14°F, and the battery lasts for a year and up to 3,500 unlocks per charge.
Otto Designworks Ottolock
Lighter than a U-lock and tougher than a cable lock, the coiling Ottolock secures your bike with multiple layers of steel and Kevlar. Locks are 18", 30", or 60", and weigh 4 oz.–8 oz., but roll small to stash in your saddle bag, pocket, or pack. Each cut-resistant zip tie-style 0.7-inch security strap is coated in plastic to keep it from scuffing or chipping your frame. And the three-digit combination lock comes resettable. It'll resist wire and bolt cutters, but it's not designed for maximum security. Because it's flexible and low profile, we also used it to lock a canoe to a roof rack, and it kept roommates from "borrowing" our bike without asking.
Abus Bordo 6000 Alarm
A folding lock with a built-in alarm, the Abus Bordo 6000 Alarm draws attention to any thief messing with your bike. Once the Bordo 6000 is locked, the alarm is engaged. If your bike or the lock gets jostled, the Bordo sounds an annoying, not deafening, 100-decibel alarm designed to spook a potential burglar. The bike-mounted lock is made from frame-protecting, silicone-coated 5.5mm steel bars in a hardened steel case. The 3.2 pound, 35.5 inches cable folds to make it easy to carry. But remember to take it off your bike before you load your bike on a car and drive away, which can also activate the alarm. If you're already using other Abus locks, order this one keyed the same.
Seatylock Foldy Compact
The lightest folding lock you can buy, the 33.5-inch Seatylock Foldylock Compact is made from hardened steel bars and protected rivets so that it has plenty of length and flexibility for locking your bike. But it packs up small, making it easy to transport. Like a U-lock, it rates high for protection against hacksaw and hammers with chisels. And the lock cylinder is designed to resist drilling. Plastic coated links not only protect your frame, but work with the case to make sure this lock doesn't rattle while you're riding.
Kryptonite Evolution Mini with Flex
A combo vinyl U-lock and 4-foot cable lock, Kryptonite thwarts robbers who might settle for just stealing your wheels with this two-piece security system. Made from 13mm hardened bolt-cutter resistant steel, the U-lock portion of this device has a patented "double deadbolt" to protect against twisting breaches. Use the U to secure your frame, then thread the tough cable through your wheels. During our testing, a sliding dustcover kept out water and grime, and a mount secured it to the bike. It comes with three keys—one with a LED to light the keyhole at night. Register this lock, and if a thief outsmarts it, Kryptonite will reimburse you up to $2,500 for your stolen bike.
Hiplok Z-Lok Combo
More like a reusable tie than what we normally think of as a bike lock, this three-number combination lock strap is small and light, and an excellent deterrent when you're grabbing a coffee or have your bike on a roof rack. Its steel core is reinforced with nylon, which also keeps it from scratching your ride. And, it's small enough to stuff in your pocket.