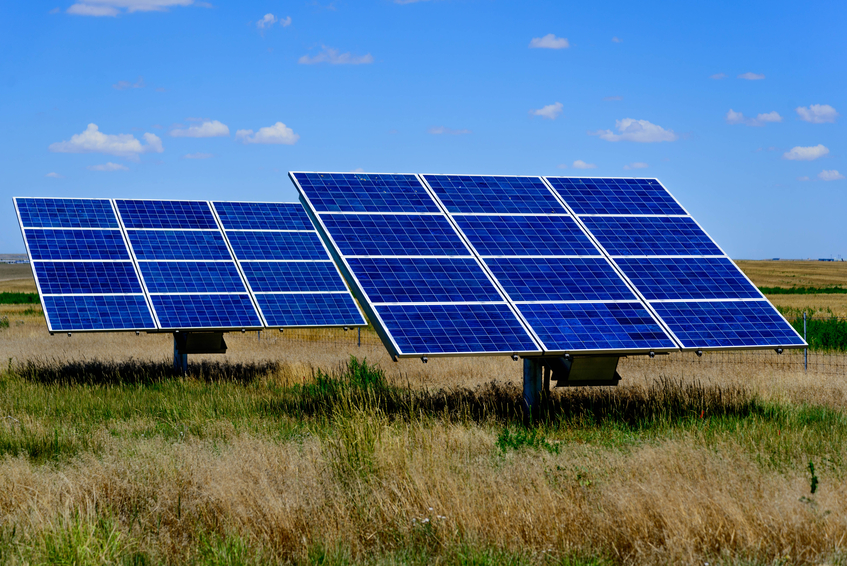 Pratt city officials this week announced plans for the construction of a 6-megawatt solar farm in the northeast corner of town intended to provide most of the cities electricity for at least the next 15 years.
The city, which operates a municipal power company, has entered into a long-term contract with Inovateus Solar and Kenyon Energy for the project.
Inovateus, of South Bend, Indiana, will construct the farm and Kenyon Energy, headquartered in Safety Harbor, Florida, with an office in Colorado, will manage it.
At the end of 15 years, the city will have an option to buy the solar farm or enter a new power purchase contract, said Pratt City Manager Roy Eckert.
The solar panels will be erected on 80-acres a half mile north of U.S. 54 on Northwest 20th Avenue that the city acquired next to Pratt County Community College. The array will take up about 35 acres, Eckert said, with space remaining for industrial development or future expansion of the solar farm.
The city is also working with the community college to provide access for training in solar power installation and management. The college already has a lineman program, Eckert said.
"We are impressed by the enthusiasm expressed by city officials as well as Pratt Community College in the creation of a solar program," stated Jordan Richardson, Business Development Manager at Inovateus Solar, in a news release. "This aligns really well with our core values to continue educating and promoting the use of solar technologies."
The solar farm will be capable of generating 12.6 MWh annually, or enough electricity to power 10,000 homes – three times the number of residences in town. There are no plans, however, to sell the power outside of the city. Instead, it will be exchanged through the power pool to offset other types of energy sources.
Construction will start this month, with commercial operation expected by January 2019.
City officials decided to pursue solar because several of the city's power purchase agreements are reaching expiration, Eckert said. The city has been studying the issue for nearly 18 months and identified solar as the most economical power.
The timing was right, he said, because the project will qualify for federal tax credits which are soon set to expire. Under its agreement, the city will lock in about a 6.4-cents kilowatt price, "which is right in the middle of what other communities have" Eckert said. "So we're in good shape."
"The cost of power changes day-to-day, even hour-by-hour," the city manager said. "You're at the whim of the grid. That's why it's so important for us to keep the solar part flat, to help keep power cost down for our citizens."
"This is a win-win for both the city and the contractor," Eckert said.
"The City of Pratt is a highly diverse community moving in a progressive direction, supporting extensive growth and business opportunities," stated Pratt Mayor Doug Meyer in a news release. "For these reasons, we are very pleased to announce our partnership with Inovateus Solar to lead in our region with the utilization of clean energy sources."