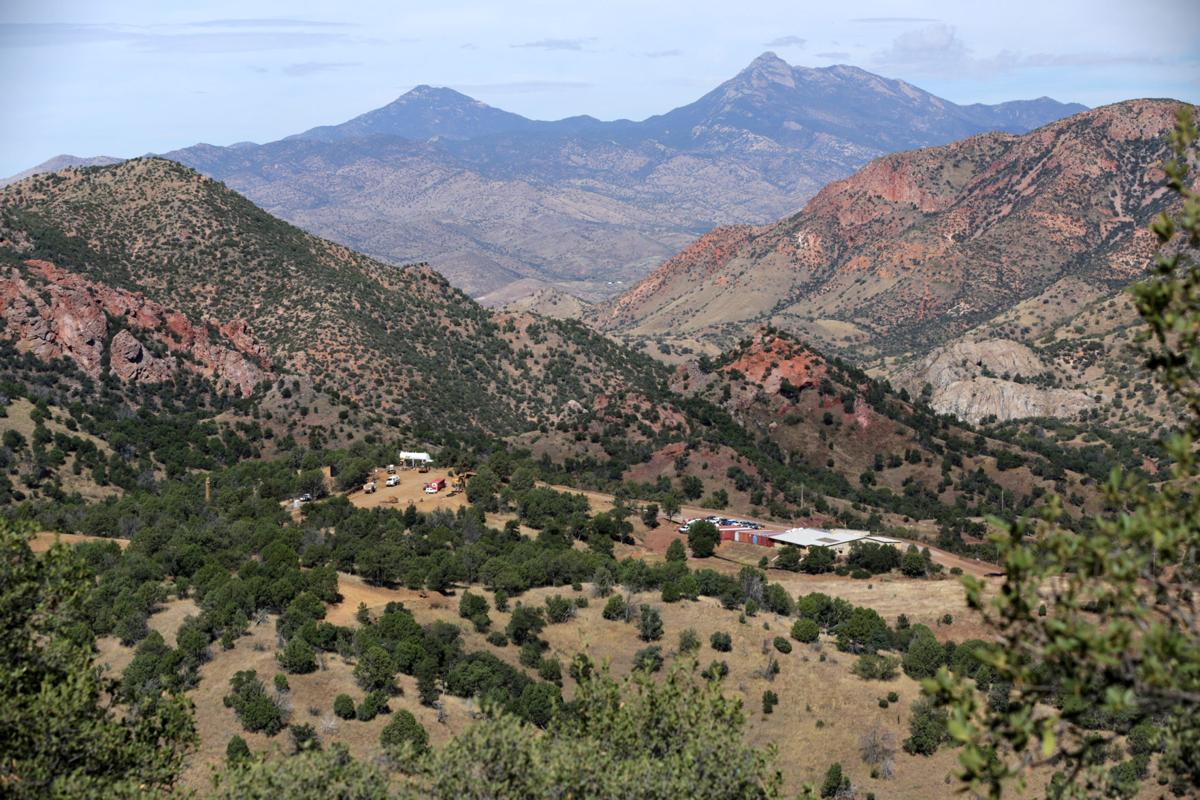 A planned "world-class" zinc and lead mine near Patagonia in Santa Cruz County would create several thousand jobs in the depressed area and pump $676 million annually into the state's economy, according to an economic-impact report released Friday by the mine's developer.
Over its projected 32-year life, the Hermosa Project mine would add more than $21 billion to the state gross domestic product, says a study by Arizona State University economists commissioned by Arizona Mining Inc.
"You're talking about decades of injections into the economy," Lee McPheters, an ASU economist and research professor, said at a press conference.
The mine is expected to have an average of 451 employees over a project lifespan now expected to last until 2049, with a peak of 525 workers, and those jobs will support an average of 3,225 other private, nonfarm jobs, researchers at the L. William Seidman Research Institute and the W.P. Carey School of Business at ASU found.
Though the Patagonia Mountains were mined extensively from the 1850s until the 1950s, the Hermosa Project — which has been vehemently opposed by local environmentalists but has won strong support from Gov. Doug Ducey — would be the first mine to open in Santa Cruz County in decades.
Juan Ciscomani, a senior aide to the governor, said the Hermosa Project will be an important creator of much-needed jobs and career paths for graduates of Arizona's schools and technical programs.
"The impact of mining in Arizona really extends into every sector," Ciscomani said.
The Hermosa Project, also known as the Hermosa-Taylor Project, would become one of the world's biggest producers of zinc, producing some 946 million pounds per year, said Don Taylor, Arizona Mining's chief operating officer.
"We're certainly one of the world's biggest base-metal mines," said Taylor, who recently won a top award from the Canadian mining industry for his discoveries of the world-class zinc deposit at the site.
ASU's McPheters said at projected production levels, the mine would boost mining's current annual contribution to the state's gross domestic product, now about $4.6 billion, by 15 percent.
The mine also is expected to produce significant amounts of lead and silver, along with manganese, and a concentration of copper also has been found in some areas, said Taylor.
An earlier plan to dig a surface silver mine partly on federal land near the site in the Patagonia Mountains was dropped after environmentalists filed suit challenging the permit issued by the U.S. Forest Service, which later revoked the permit.
The proposed underground mine would have a much smaller footprint on private land acquired by Arizona Mining and needs only state permits to begin operation, with a goal of starting production by 2020.
Opponents, including the Patagonia Area Resource Alliance, say the mine threatens both the supply and quality of the area's groundwater.
They say even the underground mine design would divert groundwater used by the town of roughly 900 residents, citing dropping well levels in the areas, while contaminated water from mine processing could pollute Patagonia's groundwater supply.
They cite pollution from closed mines in the area, including a 2014 incident in which contaminated water from a long-shuttered mine poured into a nearby creek during a flood.
Taylor said water the mine uses will be reused as much as possible and other water released will be first treated at an onsite plant already under construction.
Greg Lucero, vice president of community and government affairs for Arizona Mining, said the company is sinking its own deep wells and tapping an aquifer on the other side of the mountains from Patagonia, which should keep the water supplies separate.
Carolyn Shafer, a local business owner and board member of the Patagonia Area Resource Alliance, said the mining company's economic assumptions and environmental promises should be viewed skeptically.
"It is important to look at the history of mining promises here in the state of Arizona and what many towns have been dealing when other mines have left," said Shafer, who has lived in the Patagonia area for 20 years and owns a local artists' gallery there.
"It is more important to have clean water and air for all the people first before we talk about a big project that will bring economic benefits to a few."
Asked about the long-term economic viability of the proposed mine given the cyclical nature of the mining industry, Taylor said the company's projected production costs are so low it's hard to imagine the mine closing for economic reasons.
He noted that the company supplied ASU researchers with conservative price assumptions, including a price of $1.10 per pound of zinc, while the current price is about $1.40 per pound.
Arizona Mining expects to be able to produce zinc — used mainly for galvanizing metals and in metal alloys — at a cost of 46 cents per pound, while the lowest zinc prices have gone in the last 25 years is around 85 cents a pound, Taylor said.
"What we know is that our margin, what it costs us to make a pound of zinc and where prices have been the last few years — there's no way you shut this project down, though you might slow it down," he said, adding that the Hermosa mine could affect markets as it supplies 8 percent to 12 percent of the world's zinc.
McPheters said there's a good chance prices for zinc and the other metals mined at the Hermosa mine site will increase in coming years, citing the increase in demand for high-tech products.
"I find it very unlikely that demand for mineral resources — copper, zinc, whatever — is going to diminish because I'm not sure what the substitutes are," he said.