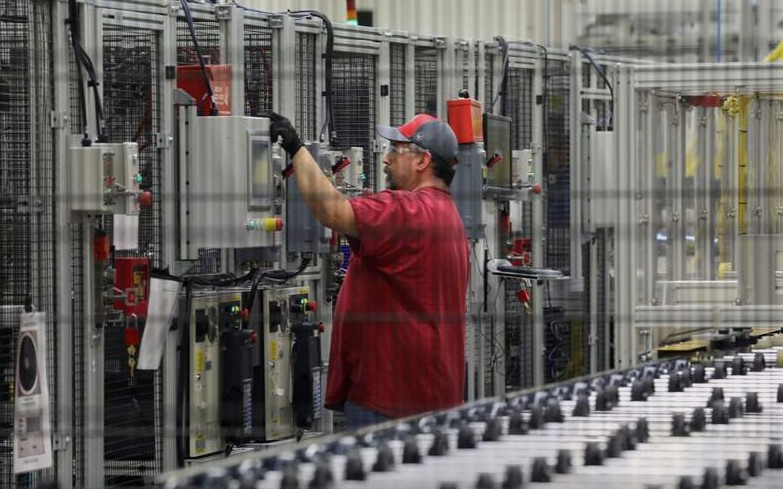 An empty expanse of dirt off State Rt. 795 in Wood County will soon be home to part of the largest solar factory, by capacity, in the Western Hemisphere.
Tempe, Ariz.-based First Solar broke ground Friday morning on a $400-million, 1-million-square-foot plant in Lake Township, which will produce its new Series 6 thin-film solar panels. The plant, which is set to reach full capacity in late 2019, will bring 500 jobs to the region, compensating for the 350 jobs First Solar cut to upgrade its Perrysburg Township plant, located less than two miles away, from Series 4 to Series 6 panel production last year.
"We made a decision about 18 months ago to transition to a new product, which was a tough decision for us to make," said First Solar CEO Mark Widmar. "But we did it for the reason of taking the best possible product and the best possible technology and getting them into the marketplace to enable us to grow from a position of strength."
When the new plant is complete, the two factories will produce enough panels to generate a combined 1.8 gigawatts of power annually, three times the Perrysburg site's current output.
The groundbreaking was attended by a crowd of about 80 company representatives, local and state officials, and media members.
"When a company like First Solar, with so many competitive sites to choose from, decides to invest and grow here, it really validates that Wood County and northwest Ohio is [a wonderful] place," Wood County Commissioner Craig LaHote said.
A statement delivered by a representative from the office of U.S. Sen. Sherrod Brown (D., Ohio) office deemed solar panel production the newest iteration of Toledo's history in the glass industry. A statement from the office of his Republican colleague, Sen. Rob Portman, praised the company for meeting national solar-energy demands.
First Solar's panels are for commercial, industrial, and utility-scale use, and are used by large utility solar farms, on public buildings, and at off-grid industrial sites.
The company began in northwest Ohio, and operates manufacturing facilities in Malaysia and Vietnam.