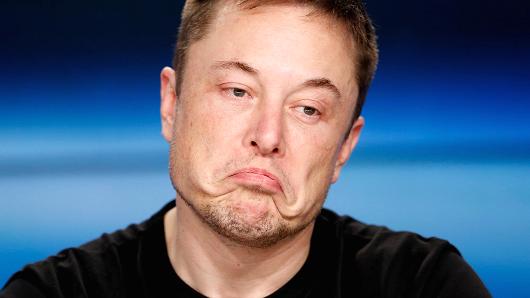 Tesla Chief Executive Elon Musk faces votes at Tuesday's shareholder meeting that will challenge his grip on the electric carmaker, but he may be able to count on some powerful friends: big fund managers likely to be fans.
These stockpickers would have weighed Musk's forceful public persona in their decisions to buy and hold Tesla shares in the first place, and likely are ready to back him at the meeting to be held in Mountain View, California, said analysts, corporate governance experts, and investors.
They expect shareholders to elect three Tesla directors and vote to let Musk keep his chairman's title despite investor challenges and broader concerns with Tesla's production.
"We're making a bet on Elon Musk," said one top-20 Tesla investor who plans to back the directors and vote to keep Musk's roles intact. The investor compared Musk to Apple founder Steve Jobs, saying, "These people are geniuses. You either believe in him or you don't."
Said Morningstar analyst David Whiston, referring to big, actively managed funds holding Tesla, "I doubt they would vote against Elon because if you don't believe in Elon, why are you in the stock?"
Tesla has been fighting negative press for several months over production bottlenecks for its Model 3 sedan, crashes involving its cars and doubts raised by Wall Street over its cash position.
Union-affiliated investment adviser CtW Investment Group is attempting to unseat three Tesla directors it says lack qualifications or independence, including investor Antonio Gracias, Tesla's lead independent director; James Murdoch, the CEO of Twenty-First Century Fox; and sustainable food executive Kimbal Musk, Elon Musk's brother.
Another investor proposes splitting the chairman and CEO jobs, both of which Musk fills, arguing the sprawling company has become difficult to oversee.
Influential proxy advisers Institutional Shareholder Services (ISS) and Glass Lewis have backed the split of Musk's roles and mostly opposed the three directors, the only ones up for election this year.
If any of the challenges wins a majority of votes, that could undermine confidence in Musk at a time when he is counting on workers to pull out the stops to ramp up production of the Model 3 sedan and as some analysts expect the company to raise new capital. Shares are down around 7 percent year-to-date.
Tesla says it does not need new funds. Asked about the voting expectations, Tesla spokesman Kamran Mumtaz referred to filings the company has made that outline the directors' qualifications. Tesla has said its governance structure allows it to avoid pressure by short-term investors.
Wild cards that may decide the outcome will be the votes of funds run by T. Rowe Price and Fidelity Investments, institutions that owned about 9 percent and 8 percent of Tesla stock, respectively, as of the end of March, trailing only Musk's stake of roughly 20 percent.
T. Rowe Price's Growth Stock Fund broke with Tesla last year and supported a measure calling for Tesla to have its directors elected annually. The measure received the support of about 46 percent of shares voted by outside investors, assuming Musk voted his stake in opposition.
Researcher Proxy Insight found T. Rowe Price and Fidelity, known for their actively managed funds, last year voted for dissident director slates in proxy contests more frequently than the largely passive manager BlackRock.
But voting against specific directors is often seen as a "last resort," said Nick Dawson, Proxy Insight managing director.
And T. Rowe was supportive of management on a high-profile vote earlier this year that put Musk on track for what could be the largest executive payout in corporate history, according to ISS calculations.
Anne Sheehan, who retired earlier this year as head of corporate governance for the California State Teachers' Retirement System, said she expected big funds would vote according to board recommendations and raise any concerns privately with Musk.
Their message, she said, will be: "If he's a car company, he's got to produce cars."