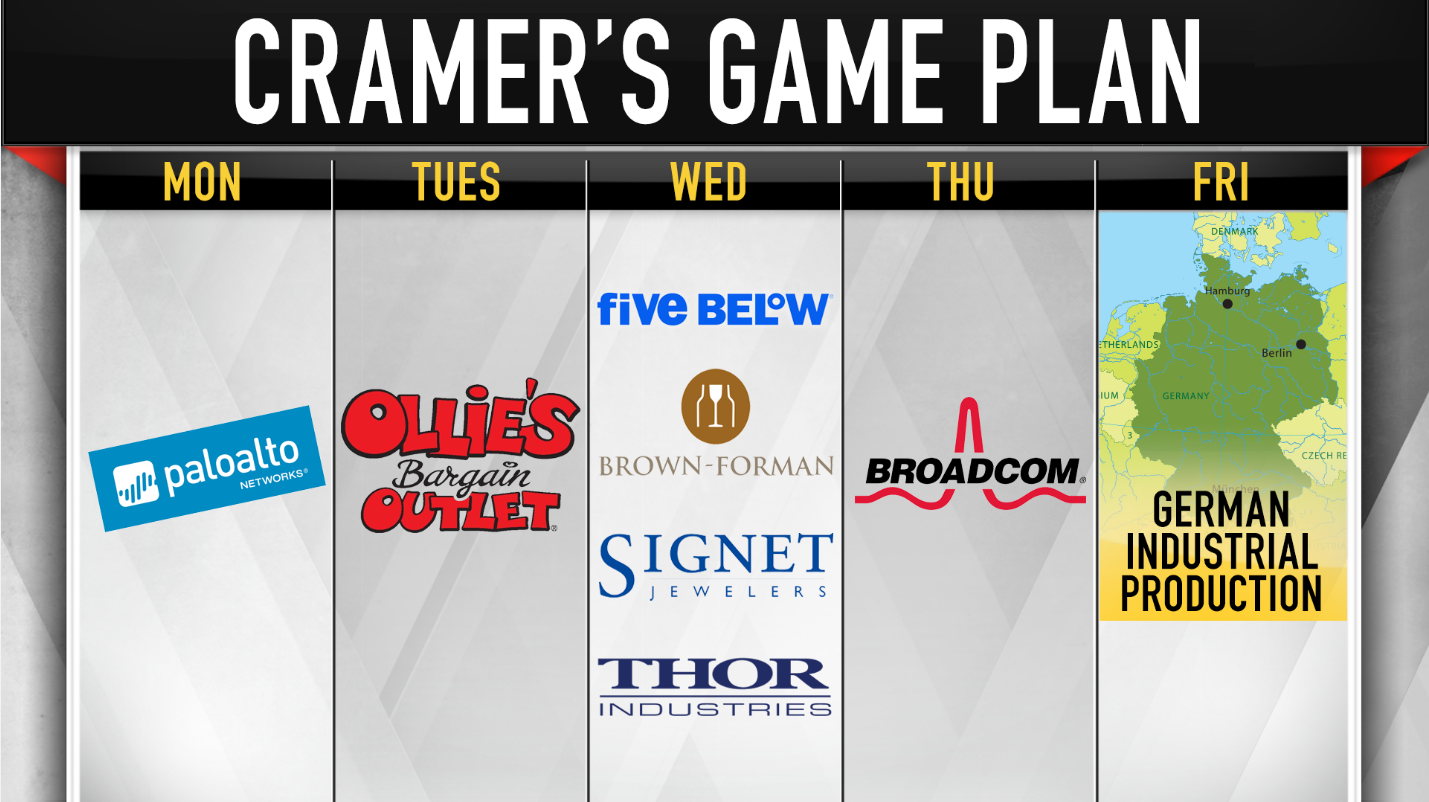 After stocks withstood the spike in Italian bonds and the Trump administration's tariffs on steel and aluminum, CNBC's Jim Cramer started to get more bullish on this market layout.
"Then we got today's amazing employment report and the market showed its true colors," the "Mad Money" host said Friday after the major averages locked in healthy gains.
"As I've been telling you for years, the single most important data point for the market is the Labor Department's nonfarm payroll figure, and this one was nothing short of spectacular," he continued.
The reason Cramer puts so much faith in the employment number is because its impact lasts longer than the rest of the 24-hour news cycle.
"This number sets the stage for many weeks, not days, but weeks of investing," he said. "It becomes the fulcrum that stocks trade off of — the backdrop, so to speak — and it's a good one."
With that in mind, Cramer turned to his weekly game plan to explain how stocks might fare in light of the strong report.
Monday: Palo Alto Networks
Cybersecurity giant Palo Alto Networks will kick off the week's earnings reports. Calling it "the granddaddy" of its sector, Cramer expected a strong quarter from the industry leader.
"It did have to have a reset a couple years ago with a serious sales reorganization," he said. "Since then it's been smooth sailing and I bet the smoothness continues."
Tuesday: Ollie's Bargain Outlet Holdings
Shares of discount retailer Ollie's Bargain Outlet Holdings are already up 32.5 percent for 2018, but Cramer remained bullish ahead of the company's Tuesday earnings report.
"The stock is no longer as cheap as it was when we first met it, but its business model works nationwide and it simply can't put up new stores fast enough. That's what I call a high-quality problem," he acknowledged. "I think it'll be a good quarter."
Wednesday: Five Below, Brown-Forman, Signet Jewelers
Five Below: The Philadelphia-based company will also report earnings. While Cramer admitted that the crafts-based retailer didn't have Ollie's consistency, he liked what it had to offer.
"It's been putting up outstanding numbers of late and, like Ollie's, is going from regional to national, which is really the best kind of retail growth story," he said on Friday. "I bet you'll like what they have to say."
Brown-Forman: The liquor manufacturer behind brands like Jack Daniels will also report. Cramer labeled it an unusual tariff play because of whiskey's role in escalating global trade disputes.
"Still, the browns — as they call them in the liquor biz for the color of the drink — are on fire here and it should make for a very good quarter," he said. "But with the overhang from the trade dispute, they could have a great quarter and I don't know if anyone's going to care."
Signet Jewelers: Cramer argued that the struggling Zales parent, which reports Wednesday, is benefiting from new CEO Gina Drosos' turnaround plans.
"She's resetting expectations. She's cleaning up the culture. She's making the company into more of a jeweler, not a moneylender that just happens to sell jewelry," he said. "It's not an easy transition — the last quarter was a huge miss. But I think this could be the beginning of a turn. I'd buy some before and then buy some after if the stock gets hit."
Thursday: Broadcom
Broadcom's mission to acquire Qualcomm may have been blocked by the U.S. government, but shares of Broadcom have been recovering since then, aided by the company's massive buyback.
"I think [Broadcom] CEO Hock Tan is ready to do another deal and the stock's starting to scorch higher again like the old days," Cramer said ahead of the company's Thursday earnings report. "Let's see what they have to say."
Friday: German Industrial Production data
The "Mad Money" host will be watching Germany's industrial production numbers like a hawk because of what they might say about the state of global trade.
"Right now, the strength of the German economy depends on its exports, especially its automobile exports," he explained. "I think President Trump is seething mad that BMW and Mercedes have just built gigantic auto plants in Mexico to sell into the United States."
Because Germany's economy can't afford a major slowdown, Cramer predicted that weak production results could force its government into negotiations with U.S. lawmakers.
"I believe the German government is scared to death that [Trump] may slap tariffs on German cars," he said. "So watch that number. A Germany that needs our help could be a Germany that caves. The market will fly if it does. If the number's good, though, well, it could be a protracted struggle."
Conclusions
All in all, Cramer concluded that U.S. job creation could brighten the outlook for next week.
"The employment number's got a rosy hue and it's going to color the reaction to all of these reports. Because of that, you can take on more risk despite all of the political insecurity," the "Mad Money" host said.
"A boom produces more winners than losers. Keep that in mind if you're concerned that perhaps you're being too aggressive in your deployment of cash. It's possible you're not being aggressive enough."