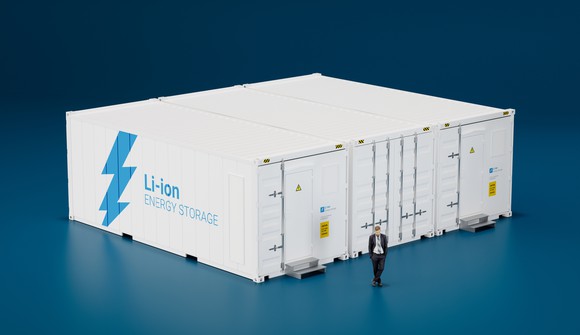 Batteries to run cars. Batteries to store solar power. Batteries … to prevent blackouts.
Everywhere you look in the field of battery technology, Tesla (NASDAQ:TSLA) seems to be there already. The company's even building a battery gigafactory in the Nevada desert to keep its battery empire well-supplied, and one of the reasons for this is that Tesla is rapidly outgrowing its origins as a car company, and finding new ways to make money by building huge, utility-scale energy storage complexes to help electricity companies shore up the stability of their electric grids.
It's a lucrative business — and Lockheed Martin (NYSE: LMT) wants in.
Lockheed looks for electricity
Last month, Lockheed Martin (NYSE:LMT) announced that it's found a way to make storage batteries for a whole lot cheaper than what lithium-ion batteries currently cost — by forgoing the lithium.
Now, Lockheed might seem a strange candidate to come up with such a plan. Most investors probably know Lockheed Martin only as a defense giant. And yet, Lockheed Martin also has an active side business in green and renewable technologies, covering everything from generating power from ocean waves to filtering out salt to create potable water to nuclear fusion.
And this is the direction in which Lockheed is leaning with its latest venture. As explained in a Reuters story, Lockheed is working to develop a "flow" battery that utilities can use to store their energy and stabilize their electric grids. Because utilities tend to be geographically grounded, and not move around a lot, light-weighing lithium metal isn't a sine qua non in the batteries they use. Simply put, cost trumps lightness when it comes to building utility-scale batteries.
Playing to this strength, Lockheed says its new battery technology will be made from nontoxic rare-earth metals and chemicals dissolved in a water solution to hold their charge. These materials will be cheap, but not necessarily lightweight like lithium.
Context: Competition is heating up for Tesla
Will Lockheed Martin's new battery initiative upset Tesla's recent success in building utility-scale batteries? Actually, Tesla is already encountering some competition here. After winning one Australian energy storage deal (for 129 megawatts) last year, then a second (for 250 megawatts of "distributed" storage) this year, Tesla was tapped a third time to build a 25 megawatt energy storage facility co-located with the Gannawarra Solar Farm near Kerang, Victoria. (Tesla has also built a smaller 20 megawatt battery system supporting a wind farm at the Bulgana Green Power Hub in Western Victoria.)
These weren't the only energy storage projects that came up for bid recently, however. Yet another project — 30 megawatts of storage — was awarded to AES (NYSE:AES) and Siemens' (NASDAQOTH:SIEGY) joint venture Fluence, a start-up those companies set up specifically to compete with Tesla in this growing market. It will be installed at the Ballarat terminal station, owned by AusNet, and operated by EnergyAustralia.
Fluence offers storage in three formats: "Siestorage" (billed as providing "lightning fast energy"), Advancion (designed for "dependability"), and SunFlex (tailored to provide "maximum solar yield") — each apparently utilizing lithium-ion batteries such as Tesla uses. The company has not revealed which of these solutions will be employed in Australia.
Fluence, incidentally, is also the company behind the biggest energy storage project in Tesla's home market of the United States. In January, AES and Siemens announced they received the necessary "approvals and authorizations" to proceed with a "100 MW/400 MWh" energy storage project in Long Beach, California, dubbed the Alamitos power center energy storage project. Said project will provide backup power to Southern California Edison in western Los Angeles.
Why it matters to investors
Tesla's energy storage business produces better gross margins than its better-known electric car business — where Tesla's also been feeling some heat from the competition as General Motors' electric Bolt steals sales from impatient would-be Tesla Model 3 buyers, and Volkswagen gears up for a major push into electric vehicles. Now, as Tesla faces down a whole host of imitators in the electric car market, its more profitable energy storage business is also coming under attack — an attack that will only get more intense when Lockheed brings its new flow batteries to market next year.
With AES, Siemens, and now Lockheed Martin gunning for Tesla's surprisingly successful energy storage business, things could soon be looking grim for Tesla.