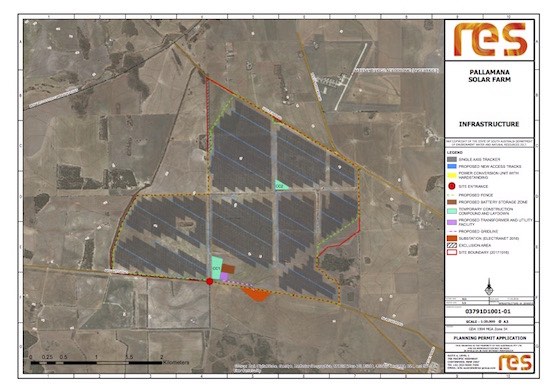 Renewable energy developer RES Australia plans to build a 176MW solar farm with battery storage at Pallamana, about 60km south-east of Adelaide near the town of Murray Bridge.
The solar farm would supply solar electricity to the National Electricity Market – generating enough power to meet the needs of 82,000 homes – and would also store energy to be dispatched later via lithium-ion battery banks, the company says.
According to the Pallamana Solar Farm website, the project gained "Crown sponsorship" in February, and RES expects to apply for development approval in the first half of this year, with an eye to begin construction in Q2 2019.
The 730 hectares of land proposed for the project is currently being used for cropping, RES says, and would continue to be used for sheep grazing once the solar farm was built.
Also in South Australia, RES recently proposed construction of what would be Australia's biggest battery storage facility – up to 215MW – next to a new 180MW wind project north of Adelaide.
The proposal at the Twin Creek wind farm, made in a planning submission to the South Australia Planning Commission, would be bigger than the existing Tesla big battery, and a bigger installation planned for Whyalla by industrialist Sanjeev Gupta.
In the Murraylands, the SA region proposed for the company's new solar and battery project, a separate solar project by Equis Energy aims to develop a potentially 238MW solar plant next to a diesel power station near Taliem Bend.