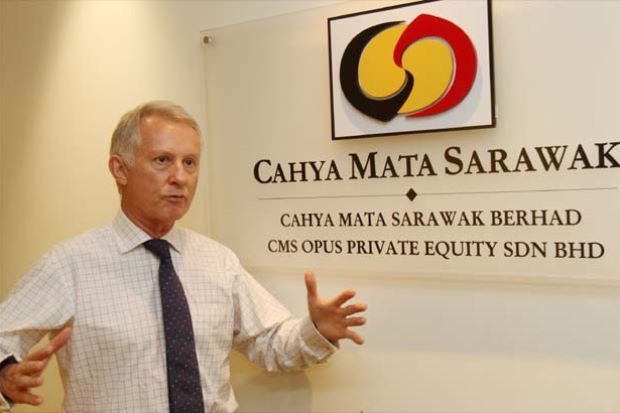 (CMS) expects to see a boost to its bottomline with increasing demand for its construction materials from the ongoing Pan Borneo Highway project.
Newly appointed group chief executive officer (corporate) Datuk Issac Lugun said CMS was anticipating upside for its quarry products and cement-based materials as the Pan Borneo Highway project gathers momentum.
This, he said, would boost the company's earnings from its traditional core businesses.
CMS's 51%-owned PPES Works Sarawak (Sdn Bhd), in partnership with Bina Puri Sdn Bhd, is undertaking one of the 11 work packages of the Pan Borneo Highway project. Construction work for the project, which is worth about RM16bil on the Sarawak side, has progressed to about 20%.
CMS is Sarawak's sole cement manufacturer. The group owns five quarries, which have a combined rated capacity of 2.19 million tonnes per annum. It also owns seven premix plants statewide with a combined rated capacity of 1,140 tonnes per hour, as well as a 10-tonne-per-hour bitumen emulsion plant.
These plants, according to CMS' 2017 annual report, serve about 60% of Sarawak's alphaltic concrete (premix) and bitumen emulsion market.
This year, CMS has approved RM268.9mil in capital expenditure to fund its expansion plans, which include investments in a second production line for one of its quarries along with associated machinery, as well as in a new asphaltic bitumen batch plant project in anticipation of demand for asphalt from the Pan Borneo Highway project.
Datuk Richard Curtis, who recently retired as CMS' long-serving group managing director, had described the group's success in securing contracts for both the Pan Borneo work package worth RM1.36bil and supply of construction materials as a "game changer" for the company.
CMS is currently negotiating with the Sarawak authorities to renew a concession agreement for the maintenance of state roads after the expiry of a 15-year contract in December last year. According to Lugun, CMS, as the best proxy for Sarawak's economic growth, is well-positioned to benefit from all key growth areas in the state.
He said CMS's 25%-owned associate OM Materials (Sarawak) Sdn Bhd, which owns a ferrosilicon and manganese alloy smelting plant in the Sarawak Corridor of Renewable Energy, had made a strong turnaround buoyed by the improvement in commodity prices.
OM Sarawak, together with other associate companies, jointly contributed RM36mil to CMS group's pre-tax profit of RM56.9mil in the first quarter ended March 31, 2018 (1Q18).
CMS said the share of results from its associates, including SACOFA Sdn Bhd, showed a significant 972% improvement as compared to a loss of RM4.1mil in 1Q17.
"OM Sarawak's performance is expected to be sustained if ferrosilicon and manganese alloy prices and production output are maintained at the current levels.
"We believe that our growth strategy for our strategic invesments, to drive the next wave of growth for the CMS group, is begining to come to fruition.
"The aim of this growth strategy is for our traditional core business and strategic investments to equally contribute to double the group's earnings in the next three to five years," said Lugun.
Besides OM Sarawak and SACOFA, the group's other strategic investment is in an integrated phosphate complex project costing an estimated RM2bil in Samalaju Industrial Park, Bintulu.