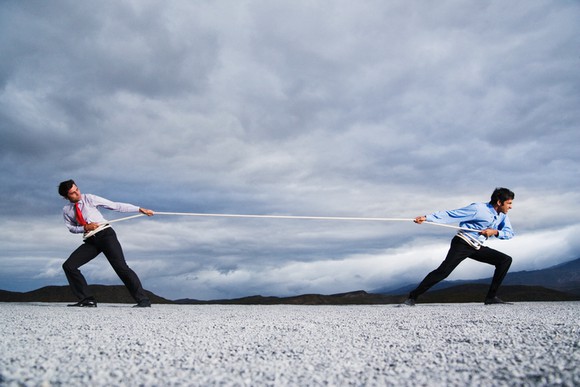 Now more than at any point in history, governments, industries, and companies are investing to reduce the carbon intensity of their respective growth and consumption. Electric modes of transportation and portable power sources are often seen as some of the best ways to accomplish that, and their rising popularity could finally create a sustainable market for fuel cells. Despite being around for decades, fuel cell technology has gained relatively little traction outside of specialty applications.
That much becomes clear after taking a look at fuel cell stocks Plug Power (NASDAQ:PLUG) and Ballard Power Systems (NASDAQ:BLDP). The companies generated just $235 million in revenue combined last year. While that would seem to indicate that the technology has a ways to go, a closer look shows both companies are on an upward trajectory as they position to exploit decarbonization trends. It also reveals two different growth strategies.
Given those differences, one question remains: Is Plug Power or Ballard Power Systems the better buy?
The matchup
Plug Power is focused primarily on designing portable power systems for material handling equipment, such as forklifts in warehouses. It's a great application for fuel cells because forklifts require relatively little power (compared to passenger vehicles or trucks) and can easily return to a central base to refuel. Since fuel cell forklifts don't produce harmful emissions, they can also be used in certain industries, such as food handling, where even propane-based machines are forbidden.
Material handling is shaping up to be a promising market for Plug Power. It was the driving force behind a 20% year-over-year leap in total net revenue in 2017 as the two largest customers, Amazon and Walmart, put more of the company's products to the test. While boasting blue chip customers is lucrative, the extreme level of dependency on the two — which represented nearly 72% of all revenue in 2017 — is a huge risk. And it's not the only source of discontent for shareholders.
The fuel cell provider is definitely enjoying the benefits that come from economies of scale for its maintenance services business, which could be profitable as soon as 2018 thanks to a growing number of the company's products in the wild. But Plug Power is not deriving any benefit from two other parts of its business, purchase power agreements (PPA) and fuel delivery services, which continue to lose money as they grow.
Without these two segments, the company would have posted a gross profit of $15.6 million in 2017 (barring a provision for common stock warrants). Instead, it delivered a gross profit of $1.6 million (again barring the provision). It seems shareholders would be better off if management simplified its strategy. Nonetheless, this year's strong first quarter puts Plug Power on track to meet its full-year total revenue guidance of $155 million to $180 million.
Ballard Power Systems is taking a different approach to exploit the industry's near- and long-term growth potential. The company manufactures the stacks that make up a fuel cell (similar to how a lithium-ion battery is composed of many individual cells) and its own brand of fuel cells for various applications. In fact, the company supplies the stacks that go into Plug Power's core product for material handling markets, called GenDrive, although the peer is also ramping up sales of its own stack products for different applications.
That said, supplying stacks is really just a way to more fully monetize its expertise. The core business is focused on supplying its fuel cell products to small-scale portable power, material handling, power backup systems for the grid, and transportation applications. Management is going all-in on the two biggest opportunities: power backup and transportation. That's demonstrated by the fact that Ballard Power Systems generated 94% of product revenue from these sources in the first quarter of 2018.
While total revenue slipped compared to the year-ago period, the business has gained traction in recent years — even posting positive adjusted EBITDA in 2017. Revenue growth is expected to be stagnant as the company focuses on developing markets for longer-term opportunities, such as through the deployment of hundreds of commercial trucks in China this year and 40 buses in Germany in 2019. The company's products are even being tested in unmanned submarines and boats.
Investors should know that management's bold bet may amount to an all-or-nothing strategy. Most collaboration programs are still in testing or demonstration phases. Although they could generate profitable business and growth in the coming years, the markets in which Ballard Power Systems is competing may choose lithium-based batteries as the portable power source of the future. That could leave fuel cells with a significantly reduced market opportunity relegated to niche applications.
The better buy is…
If Plug Power jettisoned its PPA and fuel delivery segments, then it might have the opportunity to build a formidable business in the niche material handling industry. Unfortunately, those two money-losing parts of the business might be the only way the company can keep its large customers on board (Amazon and Walmart probably don't want to be bothered with the logistics of sourcing fuel). That, and the fact that it's so dependent on just two customers in the first place, increases the risks of owning the stock.
Ballard Power Systems has a stronger, higher-margin business than its peer as it focuses on supplying fuel cells for portable power applications in material handling, commercial trucking, urban buses, and more. The number of shots on goal bode well for its future potential and make it the better buy in this matchup.