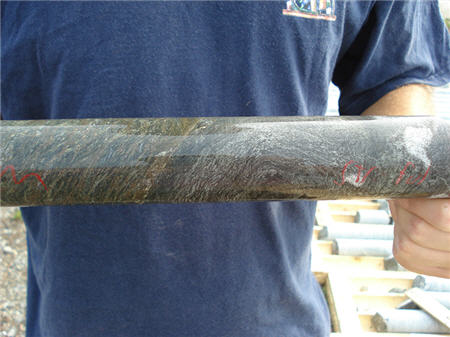 Battery metals? When investors first turned their attention to the electric vehicle "revolution", the two metals upon which they focused were lithium and cobalt.
Those markets remain strong investment stories, but the lithium-ion batteries that power electric vehicles use several metals in significant quantities. One of these metals (and metals markets) that has been drawing a lot more recent attention is nickel.
Surging demand and muted investment in this sector has caused the nickel market to move into a deficit – for now three consecutive years. Over the past year, the price of nickel has surged by roughly 50%.
At the end of 2017, expectations were that this deficit would start to shrink significantly. This hasn't happened. Instead, a Reuters article from April forecasts the deficit continuing at a similar level (roughly 100,000 tonnes), with an interesting quote from Macquarie Bank:
… visible inventories are being drawn down quicker than we had expected and there is a question mark around how available these inventories are.
One junior mining company seeking to bring new supply to this market is Tartisan Nickel Corp. Tartisan isn't a new mining company, having been in operation for 10 years. Previous operations were focused in Peru, one of the world's leading mining jurisdictions.
However, as demand (and investor interest) has heated up in these additional "battery metals" sectors, management made the strategic decision to re-focus operations. The centrepiece of this strategy was Tartisan's acquisition of Canadian Arrow Mines Ltd., with that transaction closing on February 2, 2018. This prompted a formal name-change for TN, from "Tartisan Resources Corp" to Tartisan Nickel on March 21, 2018.
The Canadian Arrow acquisition provided the Company with two assets that are coveted by management, in another premier mining jurisdiction — Canada. Tartisan's new flagship property is the Kenbridge Nickel Project. This is a primary nickel project that also hosts robust copper mineralization as well as cobalt.
Kenbridge is located near Kenora, Ontario. This land package has seen extensive historical work, dating back 70 years. Much of the early work here was conducted by (former) mining giant Falconbridge Ltd., now Glencore. In addition to roughly 36,000 meters of drilling, Falconbridge constructed a 622-meter vertical shaft.
More recently, Canadian Arrow compiled the latest resource estimate for the Kenbridge Deposit and completed a preliminary economic assessment (PEA) in 2008. That historical resource estimate reported a Measured and Indicated resource of 7.139 million tonnes, grading at 0.62% Ni and 0.33% copper. This was part of more than C$10 million invested by Canadian Arrow at Kenbridge.
The resource is divided between an open-pit resource and underground resource. The PEA listed 84.6 million pounds of recoverable nickel, in a production model based around an 8-year mine life, with a (combined) production rate of 2,800 tpd's. Preliminary metallurgical testing was also completed, providing valuable data on optimizing recoveries.
The geology at Kenbridge is somewhat unusual. Described as a "brecchia pipe" formation, mineralization occurs in a vertical chute – more reminiscent of the kimberlite pipes associated with diamond mining than a conventional metals deposit. In a conference call with Stockhouse Editorial, management described this formation as carrot-shaped: narrow at the base and widening at the top. Previous drilling at Kenbridge shows that the grades of this deposit improve at depth.
Armed with this knowledge, TN has immediately gotten busy. On February 21, 2018; Tartisan announced it had engaged MineMap Pty. Ltd. (Australia) to conduct a review of the Kenbridge Project.
The goal is to produce an "updated block model" of the Deposit with NI 43-101 compliant resources. With a 90-day timetable for this review, initial conclusions should be forthcoming shortly. Meanwhile the Company is looking to gather even more data on the Project.
Magnetic imaging technology has advanced considerably in recent years. Specifically, it's now possible to look deeper beneath the surface than was previously possible. This is particularly useful at Kenbridge given the vertical chute-formation of the mineralization.
TN is planning on a magnetic imaging survey for June, setting the stage for additional drilling. The goal of this next drilling will be to extend mineralization below the current level of 632 meters. The Deposit is also open "along plunge" to the northeast and is potentially open along strike as well.
Beyond this, with a large land package (recently expanded to 1,762 hectares), the potential exists for the discovery of additional "brecchia pipes" (vertical chutes) of Ni-Cu-Co mineralization. Previous exploration has already produced potential targets, and the additional magnetic imaging will further define those targets.
Altogether, approximately 80,000 meters of drilling has been completed at Kenbridge, spread across 575 drill holes. With abundant infrastructure from previous development, this will help mitigate cap-ex if a decision is made to move to production.
Further facilitating Project development is "Treaty #3", an agreement reached with local First Nations peoples. This agreement has been in place since being negotiated by Canadian Arrow in 2007.
The second highly prospective property acquired by TN is the Alexo-Kelex Nickel Project. Alexo-Kelex is situated in the prolific Timmins mining district in Ontario. As with Kenbridge, this property has a long development history, including hosting the past-producing Alexo-Kelex Mine. That open pit operation extracted 87,000 tonnes of ore, grading at 3.06% Ni.
While the mine site requires some remediation work, management is very enthused about the potential of the Project. A 2011 Technical Report and Updated Resource Estimate produced by Canadian Arrow provides extensive background on Alexo-Kelex.
CEO Mark Appleby offered these additional insights on this Project.
We are planning to continue the remediation at the past-producing Alexo and Kelex nickel deposits and focus on defining other such nickel targets in keeping with the Kambalda deposit type of which Alexo and Kelex are part. We are critically evaluating other potential property acquisitions in this area.
While battery metals and nickel (in particular) is TN's new focus, the Company remains bullish on its Peru assets. The Don Pancho Polymetallic Project hosts silver/lead/zinc/manganese mineralization. The land package is comprised of a 600-hectare and 200-hectare concession. Located 9 kilometers to the west of the Santander Mine (Trevali Mining), the geology at Santander is very similar to Don Pancho.
Tartisan holds a 100% interest in Don Pancho, subject to a 2% NSR. An 800 m X 300 m zone of Zn-Pb-Ag mineralization has been identified. A total of 2,021 meters of diamond drilling has been previously completed (by Stellar Mining), spread across six drill holes. All holes intersected mineralization, with the best intercept assaying at 4.4% Zn, 3.3% Pb, and 61 g/t Ag over 1.15 meters.
Upon further review of the geological data, management is reinterpreting its model and now suspects that mineralization could be better defined through drilling at right angles to the previous holes. This is the hypothesis that will be tested with future work at Don Pancho.
Waiting in the wings is Ichũna, an early-stage Cu-Ag exploration property located in an emerging mining camp in southern Peru, near Buenaventura Mining's San Gabriel gold deposit. The primary anomaly identified in previous geophysics hasn't yet been tested by any drilling.
The Company's other Peruvian asset is its ~20% interest in Eloro Resources Ltd. Eloro's flagship project is the La Victoria Gold/Silver Project, located in the north-central mineral belt of Peru. Tartisan holds 6 million ELO shares as well as 3 million ELO warrants (with an exercise price of $0.40).
Over the last quarter alone, TN has registered a $1.3 million gain on its balance sheet due to the appreciation of its shares. With these warrants now solidly "in the money", CEO Appleby explains why the Company is very bullish on La Victoria – and looking seriously at exercising its warrants.
La Victoria is a low-sulphidation epithermal deposit with direct similaries to Tahoe's Shahuindo Gold Mine. Eloro is set to continue the Phase II drill program focusing on the San Markito breccia structure, which hosts silver and gold mineralization as well as the San Carlos Sector, with solid gold values from sampling and rocks consistent with epithermal deposits.
After completing 2,261 meters of reconnaissance drilling in 2017, Eloro has already announced plans for an additional 4,500 meters of drilling in Phase II of its exploration at La Victoria. This means the strong potential for further appreciation of those shares.
This is a tightly-held Company. Currently, approximately 50% of its shares are held by 10 investors. Tartisan has a veteran management team, with broad mining and resources experience.
As of this writing, Tartisan has a market cap of approximately $12 million, including the $3.5 million book value of its ELO shares. With two projects that have defined (historical) resources, TN offers excellent value to investors.
Metals are the building blocks of the global economy, and Tartisan Nickel provides exposure to several of these markets. With the Company's new focus on nickel (and battery metals demand) management believes that TN is now positioned to maximize the return to shareholders.