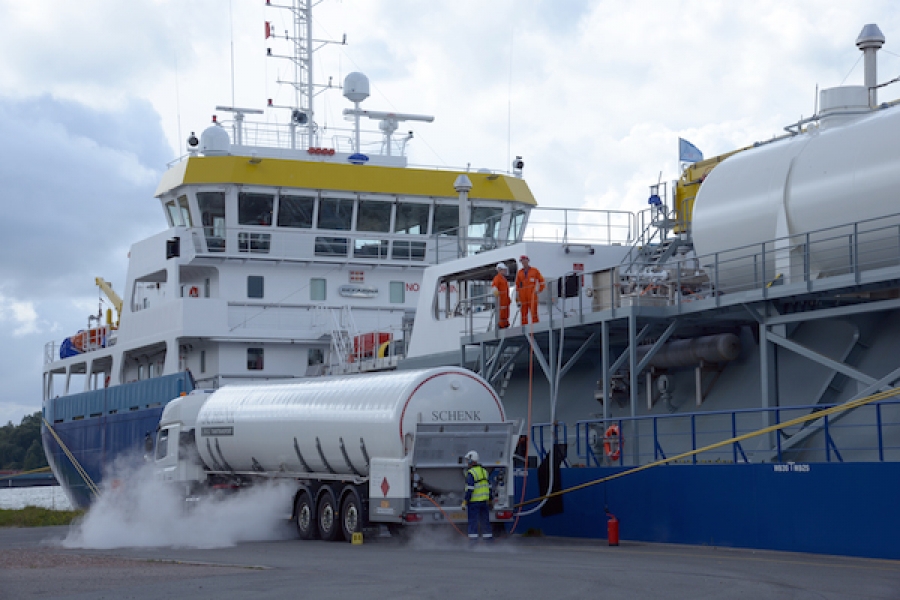 The South Korean government has confirmed its plan to revitalise the country's LNG-related shipbuilding industry.
At the 7th Ministerial Meeting on Economic Relations held at the Seoul Metropolitan Government Building on 17 May, it was noted that LNG-powered vessels are around 20% more expensive than conventionally-fuelled vessels, and domestic LNG bunkering systems are also lacking.
Meanwhile, it was acknowledged that European countries, China, and Singapore are focussing on LNG-powered vessels as future growth engines and are making quick progress to reach out to related industries.
Accordingly, the government has set up an international marine environment regulation to spur growth in the country's maritime, shipbuilding and harbour sectors.
'In order to achieve this goal, we have set up our vision to become an eco-friendly marine nation leading the LNG-propelled shipping industry,' the South Korean Ministry of Oceans and Fisheries (MOF) said in a stateme
The government says it will promote pilot projects for LNG in the public and private sectors and will lay the foundations for revitalising the introduction of LNG carriers such as incentives and legal and institutional improvements.
'First, we will promote the introduction of LNG propulsion facilities to serve as a prime role in introducing civilian LNG carriers,' MOF said. 'In addition, [the government] plans to support the installation of domestic LNG equipment in order to encourage local governments such as Busan to introduce LNG carriers.'
In the private sector, the South Korean government will also seek to promote the first domestic LNG-powered offshore vessel to be ordered by August this year. Currently under review, two 200,000-ton bulk carriers are scheduled to operate on Korean-Australian routes.
The government will also support business feasibility studies and international cooperation in order to facilitate the pilot project of introducing LNG-powered vessels under consideration by ship owners such as POSCO and Southeast Power. A pilot project to convert LNG carriers will also be launched next year for towing ships with large PM emissions.
In order to provide full-scale incentives for LNG carriers, the government will launch financial support by cutting the interest rate and the guarantee rate for LNG carriers through the Korea Maritime Promotion Corporation.
In addition, it says it will subsidise about 10% of the cost of replacing old vessels with environmentally-friendly vessels such as LNG carriers, and will support an acquisition tax on LNG carriers and reduction of port facility fees for LNG coastal freighters.
The government will also focus its attention on the country's shipbuilding facilities.
'To strengthen the capacity of domestic shipyards and related equipment manufacturers to build LNG carriers, we will develop core technologies related to LNG carriers and support international standardisation and infrastructure construction of LNG carriers,' MOF said.
The government will support seven R & D projects to develop core technologies related to LNG propulsion, lines such as control systems and optimal design. In addition, it plans to develop international standards and strengthen cooperation with the International Organization for Standardization (ISO) in order to lay the foundations for the entry of domestic LNG equipment into the global market.
It will aim to establish a safety and performance evaluation system for LNG propulsion line equipment to support technological development of SMEs. In addition, the government will also carry out demonstration projects to support the acquisition of eco-friendly shipments of equipment by domestic small equipment companies.
In order to build up the relevant new industry base, the government will improve laws and systems related to LNG bunkering, and establish LNG bunkering infrastructure.
'In order to create a base for creating the LNG bunker market, we will revise relevant laws and regulations such as the Urban Gas Business Act and the Port Transport Business Act, and ensure safety and efficiency considering the characteristics of LNG supplied at cryogenic temperatures (-163 ℃),' MOF said. 'LNG bunkering operation technology and worker safety training systems [will also be] developed.'
The government said it intends to establish a mid- and long-term roadmap to build LNG bunkering infrastructure considering LNG fuel demand and harbour conditions and build LNG bunkering facilities at major ports such as Busan Port and Ulsan Port. In addition, it will aim to lead the revitalisation of the initial LNG bunkering market through leading investment such as the construction of LNG shipping facilities at Tongyeong Station in GCC.
South Korea will also build a base for LNG bunkering technology.
'To this end, we will develop a "LNG bunkering system customised for coastal vessels" which is suitable for domestic small-sized coastal bunker bunkering,' MOF said. 'In addition, it will support localisation development of LNG bunker equipment such as pumps, cryogenic hoses, etc., and establish LNG bunker equipment test evaluation and certification system to support commercialisation after technology development.'
Finally, the South Korean government will seek to expand the international cooperation network.
In order to create an international environment favourable to domestic industry, the government says it will actively respond to relevant international organisations such as the International Maritime Organization (IMO) and engage with major leading countries in Europe as well as Singapore.
'We will actively participate in discussing the revision of the IGF Code related to the LNG-powered ship, which is currently under discussion at IMO, and will reflect the position of domestic industry,' MOF said. 'In particular, POSCO plans to support POSCO's high-manganese steel, a new material for LNG fuel tanks, to be listed on the International Safety Standards (IGF Code).
'[We will] establish a cooperative system to share policy know-how with Singapore, which is leading the international LNG network, and lead the international LNG bunkering network to develop international joint LNG bunkering standards and procedures and emergency manual reports.'
Minister Kim Young-chun of the Ministry of Maritime Affairs and Fisheries said: 'This project is a key project for the growth of shipping and shipbuilding and we look forward to a new breakthrough in the maritime industry in which the LNG-related shipbuilding industry is stagnating. We will closely examine the situation with the related ministries such as the Ministry of Industry and the Ministry of Land, Infrastructure and Transport so that related new industries such as LNG bunkering can be settled early.'