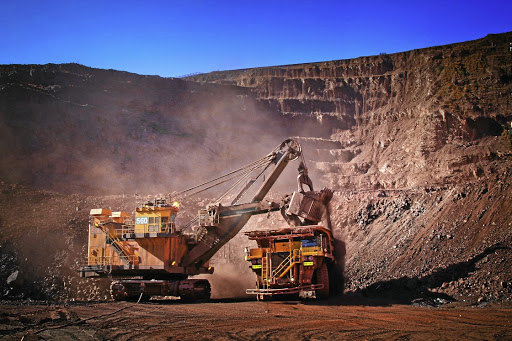 A Chinese company is stalling $5bn in investment, which could cause SA to challenge China as a ferrochrome and stainless steel maker, due to the Department of Mineral Resources' "use it or lose it" principle on mining rights.
The message to the department from William Yang, CEO of Singapore-based Sail Group, was unequivocal: free up mining rights sterilised by major firms and investment would flood in.
"The Chinese will build anything, but why would China build in SA when you won't give them something?" Yang said.
"Sterilised mining rights, what are they going to do with them? If they sort out this issue I'll bring in $5bn.
"If I say to you I can bring $5bn, I can. I don't have to ask anyone. We don't have debt facilities," he said. "There are so many companies like us in China that want to invest in SA, but we're not being given the opportunity," said Yang.
In his budget speech, Mineral Resources Minister Gwede Mantashe conceded far too many mining assets were idled.
"We intend to discuss honestly and robustly on the use it or lose it principle, found in our law. Our mineral wealth must be exploited, not left unused, if we are to generate economic growth and impact on the development of society," he said.
Sail, owned by Singapore-based Sentosa, operates Black Chrome mine 100km southeast of Polokwane and is already exporting 120,000 tonnes of the 800,000 tonnes of chrome leaving SA each month.
Sail has spent $500m buying chrome assets in SA and investing in Black Chrome and has started a $1bn programme to build a second decline shaft system and a ferrochrome plant, Yang said in an interview.
Referring to just the chrome belt in eastern SA, Yang said the deposit could be used to displace China's ferrochrome industry of 4-million tonnes a year. SA produces about 3-million tonnes. "If we produce another 6-million tonnes of chrome ore and combine it with the chrome material from the platinum miners, you'd replace the entire Chinese ferrochrome industry, which the government would support," Yang said.
The Chinese government wanted to reduce pollution and overcapacity in its ferroalloy industry. "SA can completely replace China's ferrochrome industry, which only exists because SA doesn't produce enough ferrochrome," he said, adding there was ready funding and engineering capacity in China to build power plants for more ferrochrome plants in SA.
"We should focus on the treasures in our hands: chrome, ferrochrome and stainless steel. This could replace platinum to be a very new industry for coming decades."
He outlined a vision of using the good-quality chrome found in SA, along with the relatively low-grade iron ore known as magnetite near Phalaborwa, combined with nickel from Nkomati in Mpumalanga and manganese from the Northern Cape, to set up a stainless steel-making complex that could challenge China's position.
Asked about the reality of this vision being achieved, Yang said: "I'm willing to put my life on it being 100% realistic."