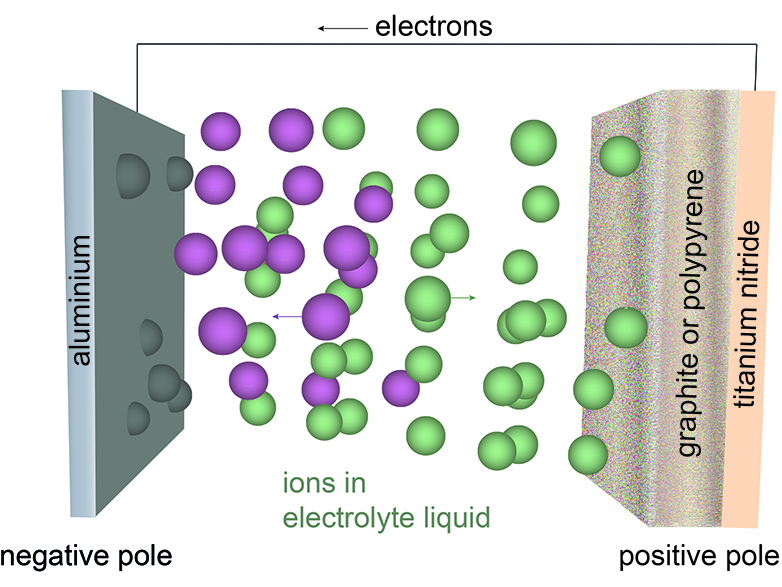 Money is a big driving force when it comes to batteries. Lithium is today's primary ingredient for laptop, electric vehicle, and grid storage batteries. But the price of lithium has more than tripled in the past year. The ultra-light metal hovers around $20,000 per metric ton. By contrast, aluminum—much more abundant and available—costs around $2,200 per metric ton. Is it any wonder that researchers are looking to replace lithium with aluminum?
Beyond Lithium?
Lithium has other challenges beyond cost in rechargeable battery usage. Ideally, for example, the anode of the battery could be made from a thin lithium metal foil. This provides a maximum number of lithium ions during discharge, increasing battery power and capacity. When the battery is charged, however, the lithium ions form on the metal foil as spiky crystalline structures called dendrites. These dendrites can grow large enough to short out the battery—potentially causing a fire. To avoid dendrite growth, the anode is made from carbon graphite that can hold lithium ions between its layers (a process called intercalation). A graphite anode can't release as many lithium ions as the metal foil can. It reduces the battery performance, but it is safer.
So what about aluminum? It is the most abundant metal in the Earth's crust. When used as an anode in a battery, aluminum can release three electrons when discharging, compared to the single electron that lithium releases. Aluminum also does not form dendritic crystals during charging. Of course, it isn't as easy as simply substituting one metal for the other.
More Pluses
In a lithium ion battery, the mobile ion is simply a positively charged lithium (Li+). In an aluminum ion battery, aluminum forms a complex with chlorine from the electrolyte to create two mobile ionic charge carriers, AlCl4– and Al2Cl7–. During discharging, these chloroaluminate anions travel from the aluminum metal anode, through the electrolyte, to the graphite cathode. At the cathode, the anions fit between the graphite layers by intercalation. When the battery is charged, the anions travel back through the electrolyte and are deposited onto the metallic aluminum.
The electrolyte used in an aluminum ion battery provides challenges. It is an ionic liquid formed by mixing organic and inorganic chlorides. The resulting electrolyte fluid is extremely aggressive and will corrode all metals, including stainless steel, gold, and platinum. This corrosive property makes the conductive parts of the aluminum ion battery, which are used to carry electrons away from and back to the battery, extremely vulnerable.
Enhanced Protection
Researchers at the Eidgenössische Technische Hochschule (ETH) Zürich in Switzerland have developed a corrosion-resistant coating material that can be used in aluminum ion batteries. The ceramic material is a titanium nitride ceramic. According to an ETH press release, the material has high enough conductivity to be used as the battery's conductive parts. Or, it can be produced in a thin film to create a protective coating on other materials.
In the ETH release, Maksym Kovalenko, professor of functional inorganic materials, stated, "The potential applications of titanium nitride are not limited to aluminum batteries. The material could also be used in other types of batteries; for example, in those based on magnesium or sodium, or in high-voltage lithium-ion batteries."
Swiss Banking
Protection from the corrosive nature is not the only aspect of aluminum ion batteries on which ETH Zürich is working. Batteries made with aluminum typically use a cathode made from graphite. But banking large numbers of chloroaluminate anions in the layers of graphite can cause a distortion of the anion structure. This has prompted a search for other cathode materials.
ETH has found that a conductive polymer, called polypyrene, stores at least the same amount of energy as does a graphite cathode in an aluminum ion battery. The ETH researchers also discovered that the disorderly arrangement of hydrocarbon polymer chains in polypyrene provided what was needed for a better battery. "A lot of space remains between the molecular chains," explained Kovalenko. "This allows the relatively large ions of the electrolyte fluid to penetrate and charge the electrode material easily," he added. Electrodes of polypyrene are both flexible and adaptable. Scientists can influence polypyrene's material properties, such as porosity, much easier than can be done with solid graphite.
Future aluminum ion batteries are expected to have a specific energy of around 1,000 watt-hours per kilogram (Wh/kg)—significantly more than the 400 Wh/kg of a lithium ion battery. This means aluminum ion batteries can either be smaller and lighter at the same capacity, or offer more power and longer duration at the same size as present lithium ion batteries. There is still significant work to be done, but the effort by ETH Zürich is a promising start on what might come after lithium.